The quest for mental toughness is the holy grail for any sportsperson - but is it something you can learn?
In 'Mind Games', Charles Colvile investigates what it means to be mentally tough in sport through the prism of cricket.
Press play on the video above to watch the third episode in full.
During the series, we explore the techniques and routines that today's players use to prepare themselves for the challenges that the modern game presents.
Plus, we talk to other athletes about the challenges their sports throw up and take a look into the future to find how cutting-edge technology will help the next generation of England cricketers.
EPISODE THREE - THE HARD YARDS
Is it more mentally challenging to be a bowler than a batsman?
In episode three of 'Mind Games' we look at the different mentalities bowlers adopt to get into their rhythm, the varied challenges seamers and spinners face and how the 'red mist' can descend.
Leading England bowlers Jimmy Anderson and Stuart Broad talk through what they do in the build-up to a Test match and how they visualise everything from the batsmen they will bowl to, the roar of the crowd and their run up to help keep them calm on the morning of a game.
Amazing, insightful program on Supersport 2 because of the toss delay at Lord's. A must watch to all youngsters out there trying to take the next step with their Cricket #mindgames @SkySports

— AB de Villiers (@ABdeVilliers17) August 9, 2018
We also hear from Glenn McGrath, Bob Willis and Darren Gough about what is going through their heads as they run up to deliver the ball, while ex-England spinner Graeme Swann talks through the unique challenges a spin bowler faces in often being seen as a match-winner in the final innings of a game.
Having gone through a marked change during his career, Anderson opens up on how speaking with a sports psychologist helped his anger and competitiveness when things were not going his way.
And, Scott Boswell talks through bowling six wides in an over in a domestic Lord's final and the effect that career-ending match had on him.
EPISODE TWO - GOOD ENOUGH?
It's a nagging doubt that can prove crippling at any level of sport: 'Am I good enough?'
In episode two of 'Mind Games', we investigate why some players are able to control their nerves while others can't - and take a closer look at the frustrating careers of two England batsmen in particular, in Graeme Hick and Mark Ramprakash.
Neither fulfilled their potential at the highest level - so what stopped them?
Ramprakash reveals for the first time that he was constantly battling crippling nerves and self-doubt shortly into his England career as expectations grew.
And Hick, like the former Surrey and Middlesex player, admits he never quite felt at home in the dressing room at the early stage of his international career.
We also speak to a number of former players - including Marcus Trescothick, Nasser Hussain, Steve Waugh - who share their experiences about what it takes to thrive in the Test environment.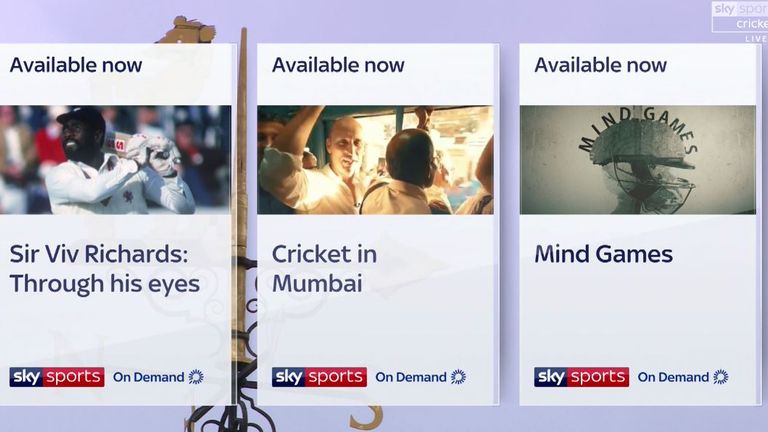 Plus, Broad stresses the importance of having a switch-off button and James Anderson reflects on why mental strength can help banish self-doubt.
One final thought. Are you born with mental toughness or can you learn it? Find out Joe Root's view.
EPISODE ONE - THE ZONE
How far can your match preparation help you get into 'the zone'?
In episode one of 'Mind Games', former and current players talk us through elements of their pre-game routine from watching clips of themselves and opponents to using mindfulness and meditation.
Jeremy Snape, former England bowler and professional sports psychologist, explains how visualisation can help while golfer Justin Rose, boxer Anthony Joshua and former rugby union player Will Greenwood talk about the importance of embracing pressure.
Plus, what you can learn from a batsman's body language as he emerges from the pavilion and just how important are trigger routines?
We also take a look at some of the 'dark arts' used to unsettle opponents and learn how some players thrive on the clarity of a match situation.
Watch all four episodes of 'Mind Games' On Demand now.
Comment below to get involved in the debate, but please adhere to our House Rules. If you wish to report any comment, simply click on the down arrow next to the offending comment and click 'Report'.