Ashes: Shane Watson comes through nets session for Australia
Australia's Shane Watson has come through his first training session unscathed as he looks to prove his fitness.
Last Updated: 15/11/13 5:01pm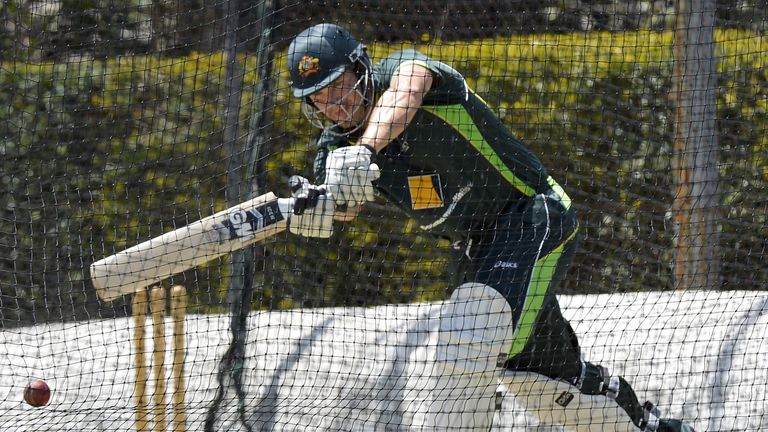 Watson has been recovering from the hamstring injury he suffered in the ODI series against India.
However he had no reaction to the problem after a light run and a lengthy batting session ahead of the first Test at the Gabba, and he revealed afterwards there was a chance he could be back bowling early next week as well.
"My hamstring is progressing well. So far I haven't had any hiccups along the way, and it was only a pretty minor one in that last one-dayer in India," Watson said.
"So hopefully it continues to progress the way it is and I 'll be fit and firing for that first Test."
Watson said there was no pressure on him to bowl but, depending on his continued progress, there was a chance he could turn his arm over next week if the risk of aggravating the problem appear to be minor.
Pressure
"My bowling really just depends on how I continue to progress leading into the Test match. It's just trying to find the balance between pushing it to see exactly where it's at and pushing it over the edge which might mean I could be there as a batsman alone," he added.
"If everything continues to go the way it is, I might look to bowl at the start of the week, but the last thing I want to do is push it over the edge and strain it trying to get back as a bowler as well. Darren Lehmann and the medical staff haven't put a massive amount of pressure on me to get back bowling."
Australian batting coach Michael Di Venuto was pleased with the workout Watson had, and he told cricket.com.au: "It was a pretty relaxed, low-key session getting used to the red ball again. Batting for him wasn't an issue. He is pretty confident where he is at, at the moment.
"He was hitting the ball as well as was in India so that was an encouraging sign. Batting is not going to be an issue.
"That's part of the plan, it's a slow build-up for him. He's still a week away from the first Test.
"It depends on how he feels (when he starts bowling again), simple as that. But he is a world-class batsman. If we have to we will just use him as that. We have options to go with whatever way we want, if we want to use a spinner or four quicks."
Stay up or catch up - watch England's defence of the Ashes in Australia this winter ONLY on Sky Sports.