Ashes 2013-14: Snicko available to third umpire in the Ashes
Enhanced technology, including real-time Snickometer, will be available to the third umpire in the Ashes.
Last Updated: 19/11/13 6:06pm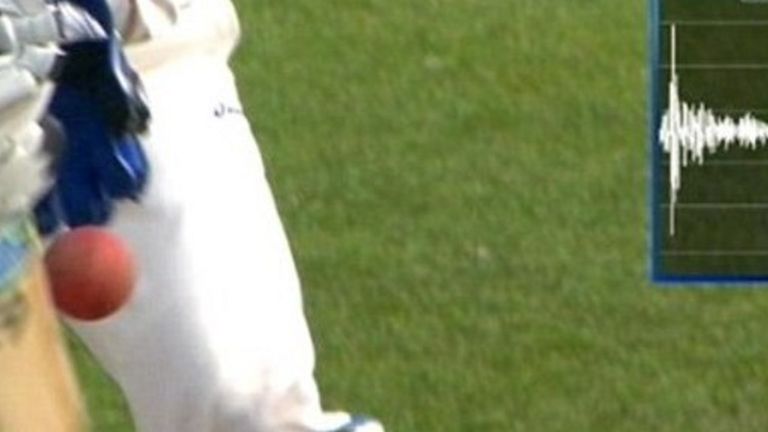 Broadcasters Channel 9 confirmed the use of the new Snickometer as well as controversial thermal-imaging device Hot Spot to detect ball-on-bat contact in the series, which will get under way at the Gabba on Wednesday night, UK time.
The announcement was expected, but confirmation has taken longer than anticipated because of protracted discussions between both teams, the International Cricket Council, broadcasters and BBG Sports - the company who develop and provide the equipment.
DRS proved a highly controversial process in England last summer, when Hot Spot in particular caused much confusion - especially in the lead-up to the fourth Test in Durham.
Agreement
Nine's executive producer of cricket Brad McNamara, quoted in an article on the Cricket Australia website, said: "Real-time Snicko will be part of the DRS. Both teams' boards have agreed to do it.
"We had a difficult negotiation (with BBG Sports) but thankfully we've come together. We're thrilled to have Hot Spot continue as part of the coverage.
"We're all about the best technology in the world. We feel that is among it and are looking forward to adding to that with the real-time Snicko, which we think will add to the viewers' experience and also help in the decision-making process for umpires.
"It will change the DRS. We hope you won't get the mistakes."
Australia batsman George Bailey backed the use of technology: "If it makes the decisions better, if the technology is there, absolutely."
Opener Chris Rogers said: "I just think you want the right decisions and that's it. There were a couple of confusing decisions in England. I think we all, as a playing group, want to get rid of those. If the technology helps, then it's all for the better."
Brad Haddin, Australia's vice-captain, is not convinced by DRS: "I think we can complicate a simple game sometimes. My take on technology is I think it needs to be a blanket rule, it needs to be the same all around the world so every Test match you go into you know whether you're playing with DRS or you're not.
"I actually think it should be taken out of the players' hands. I think the reason that came into the game, that technology, is to get howlers out. I think it can put a bit more pressure on umpires and sometimes it can be used as a tactic, and I don't think that's what it was designed to do. That's my take on it."
The opening Ashes Test gets under way on Sky Sports 2 HD from 11pm on Wednesday