ODI: Glenn Maxwell targets another whitewash of England
Glenn Maxwell says Australia want to inflict another whitewash on England in the one-day international series.
Last Updated: 13/01/14 10:28am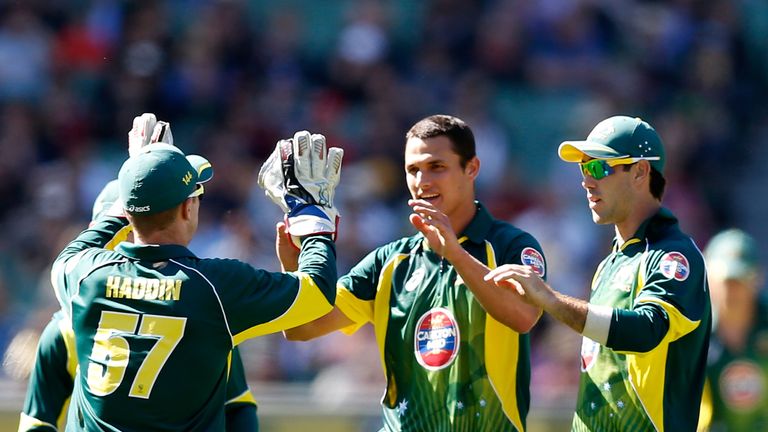 Having hammered England 5-0 in the Ashes, the Aussies romped to a six-wicket victory in the first of five ODIs on Sunday in Melbourne.
Maxwell believes England looked "drained" during the match, most noticeably when some sloppy fielding cost them dear as they tried to defend 269-7.
A record 163-run opening stand between Aaron Finch and David Warner - who both survived dropped chances before they reach 10 - set Australia on their way to win with 26 balls in hand.
Maxwell wants no respite: "I think we can (win 5-0)," he said. "The way the side is at the moment, and the confidence around the group, and the England team yesterday looked a little bit drained, a bit tired - I think they're still carrying effects from the Ashes.
"Hopefully we can keep the foot on the throat and make it 10-0. Definitely with their fielding, when Finchy and Warner took off, it was a bit like, 'Here we go again' for them.
"Hopefully that continues - I love beating England and I'm sure everyone else does in Australia."
Some sympathy
Maxwell did have some sympathy for Alastair Cook's side after they were contentiously denied the wicket of David Warner when Jos Buttler claimed a catch behind when he was on 22.
Warner accepted Buttler's assessment and began to walk off before the standing umpires called for a television review.
The TV pictures revealed some uncertainty, as so often happens in low catches, and third umpire Kumar Dharmasena called Warner back after he had made his way to just inside the boundary's edge.
England skipper Alastair Cook was sure afterwards that the wrong decision had been made, and Maxwell agreed.
"I think Davey was pretty convinced he was out," he said. "I think there's a little bit of a grey area there. If you take the fielder's word, and the batter is happy to go, I think it should be left (to the players).
"If the batter wants to stay, I think that's when it should go (to the third umpire). Davey was quite happy to walk off, and happy it was caught. It looked like it was probably out to me as well."