ICC Test rankings: Australia return to No 1 spot
Australia have reclaimed the top spot in the Test rankings for the first time in five years.
Last Updated: 01/05/14 7:15am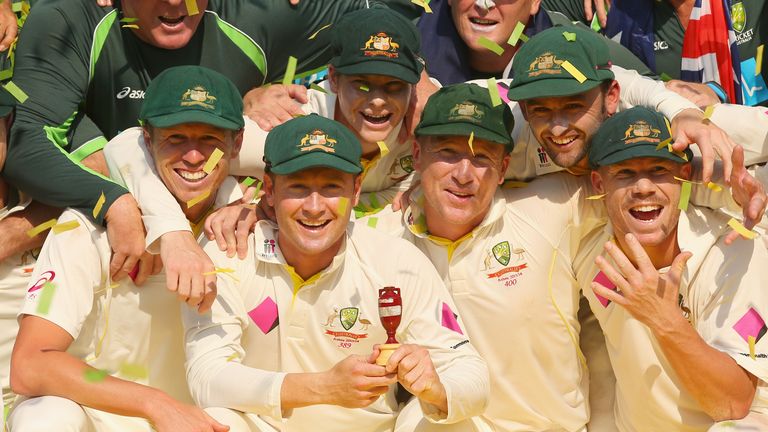 They also remain the No 1-rated one-day international side in the latest official rankings from the International Cricket Council.
It is the first time since December 2008 that Australia have been ranked number one in Tests and ODIs at the same time.
They last held the top Test ranking in August 2009, when they were displaced after losing the Ashes 2-1 to England.
Australia have overtaken South Africa, who had held the top Test spot since August 2012, following their Ashes whitewash of England and a series defeat of the Proteas.
They gained eight ratings points to move up from 115 to 123 points to be equal with South Africa, who dropped from 127, but Australia moved ahead by a fraction of a point.
England are currently third, ahead of Pakistan and India.
Clarke said: "I don't think I have had a more satisfying day or feeling in my career.
"For me, as captain, No 1 was my goal. I said from day one - I think we were third or fourth when I took over from Ricky Ponting - and then I know we got to fifth after losing in India.
"My goal never changed, I wanted to help this team get back to being the No 1 team in the world and I know the players were exactly the same.
"We are incredibly proud to be the number-one ranked team in the world in both Test and ODI cricket, which are two of the team's most important goals.
"There has been an enormous amount of hard work and effort on and off the field that has led to this result.
"However, the true test of a great side is sustained success and now our goal is to maintain these rankings and continue to play great cricket as we lead into challenging Test series against Pakistan and India, and the ICC Cricket World Cup at home."