Jos Buttler keen to lead England into a new era
Jos Buttler is confident that England can move on from the controversial axeing of Kevin Pietersen.
Last Updated: 24/02/14 10:45pm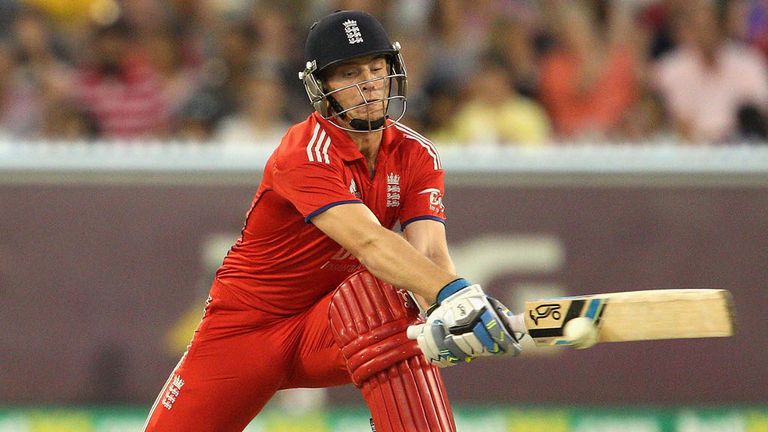 England are in the Caribbean for three one-day internationals and three Twenty20 clashes before they head to Bangladesh for the ICC World Twenty20 next month.
The series is the first since the England and Wales Cricket Board effectively called time on Pietersen's international career due to their inability to trust him to give his full backing to Test and one-day captain Alastair Cook.
Buttler freely admits he sought advice from Pietersen on a regular basis, although he made only 13 appearances alongside the ousted batsman.
The wicketkeeper-batsman made it clear he found Pietersen's advice invaluable in the short cross-over of their careers, but he is now aware of the need to make a positive start to England's "new era".
"The calibre of player that Kevin was, it was great to be around him," said Buttler.
"Personally, I liked to try and ask him as many questions as I could - as everyone usually does, when you've got people who are that good.
New generation
"It's good to try to pick their brains, and he was a great player for England.
"But that decision has been made, and now we have to move on as a team - and we can do that here, starting this week."
Stuart Broad, who will captain England here in both limited-overs formats and then again in his permanent role at the ICC World Twenty20 in Bangladesh, has called on the new generation of "match-winners" to fill the vacancy left by Pietersen.
"They are some big shoes to fill - obviously he was a great player," added Buttler. "But... everyone has moved on from that now.
"I think there are a lot of match-winners in our dressing room, and now is a great opportunity for guys to step forward and try to emulate some of the success that Kevin had.
"If they do that for themselves, we can really drive this new era. There is so much excitement around the group, new faces and new ideas as well.
"I'm still pretty young, but I've played a little bit now and had some really good experiences in my international career that I've learned from a lot.
"If I can pass on any knowledge to guys coming in, that's great. Obviously as a wicketkeeper, it's your role in the field to really drive that - and it's something I think I've grown into better as I've played a few more games.
"It's very exciting... some new faces around, a lot of fresh energy and a couple of guys on their first tour."
Buttler is already impressed with the contribution of former England all rounder Paul Collingwood, who has been brought in as limited-overs coach Ashley Giles' temporary assistant.
"Paul Collingwood is a different voice, with the experience he's got," he said.
"He's obviously got a lot of energy for the game, and a lot of knowledge. It's great to have him around."