England v South Africa: Five things from second Test at Trent Bridge
Last Updated: 18/07/17 5:47am
After taking a thumping at Lord's, so often a safe haven for them in recent times, South Africa hit back to record an emphatic win at the traditional England stronghold of Trent Bridge.
Having lost Kagiso Rabada, a key weapon in their bowling armoury, to a one-match suspension, few could have expected such a turnaround but the return of captain Faf du Plessis made all the difference.
A 340-run win for the Proteas leaves the series all square heading to The Oval next week but before focus turns to that one - and it promises to be a cracker - let's have one final look back at the best (and worst) from the past few days at Nottingham…
Pace bowler's paradise
We have been told numerous times over the years just how much England's opening bowlers enjoy playing at Trent Bridge - a point that was proven again as Jimmy Anderson claimed his seventh Test five-for at the ground.
South Africa's pacemen seemed rather partial to the conditions too with a fast bowling theme running throughout the Test, both on and off the field. Before Morne Morkel, Vernon Philander and Chris Morris ran through the England top-order, Shaun Pollock was in the Kia Zone to deliver a pace bowling masterclass.
The former South Africa all-rounder talked through some of skills he had to perfect to take his 421 Test and 393 ODI wickets before rolling back the year to deliver a bit of short stuff to Michael Atherton!
Pollock was back in the Zone on Sunday morning and was joined by another fast bowling great Michael Holding, as well as Rob Key and Ian Ward for the second of our coaching clinics - the emphasis this week on pace bowling - what else?
Phenomenal Philander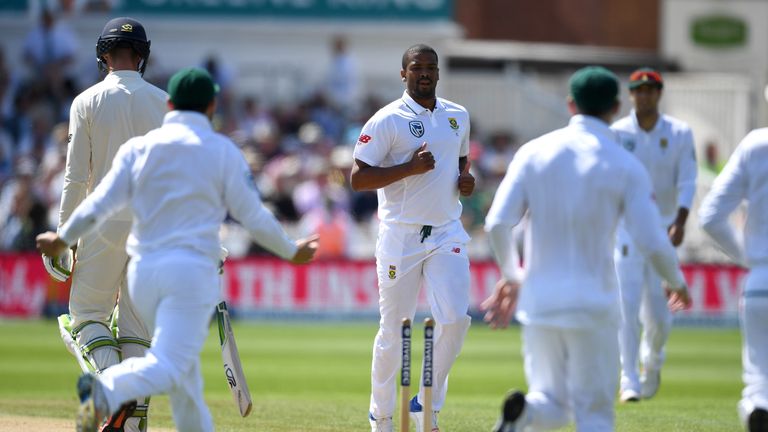 Given that Morris was clocked at nearly 93mph and both Mark Wood and Morkel regularly hit the high 80s, it is something of a stretch to describe Philander, who hovers around 80mph, as a fast bowler.
He is, though, a bowler of immense quality and remarkable consistency. He presses and probes around off stump from his first ball to his last, meaning batsmen are never able to relax. They are forced to play and know any technical deficiencies will be quickly exploited - Keaton Jennings' second innings dismissal is a prime example.
Philander finished with just five wickets in the match, two in the first innings and three in the second, but that tells only a fraction of the story with England's top three, in particular, finding themselves tested to their very limits time and time again - tests that, sadly for England, they were unable to pass.
Captain fantastic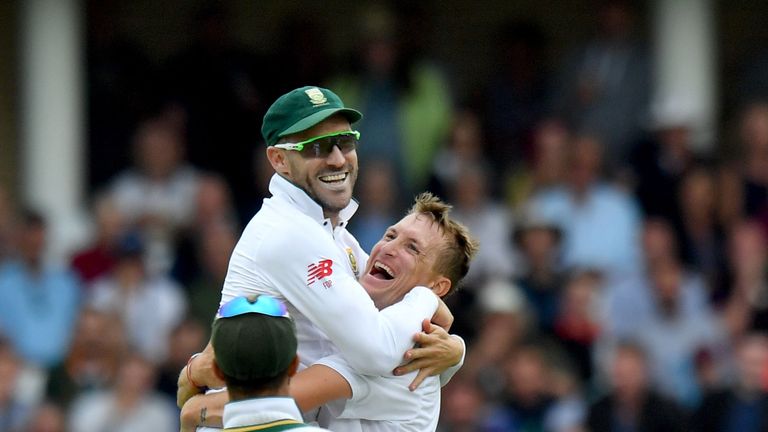 Joe Root was the toast of Lord's last weekend after victory in his first Test as captain. He still has plenty to learn in the role though and in Nottingham, he had a front row seat as the returning Du Plessis gave a lesson in Test match captaincy.
As well as chipping in with a half-century as South Africa stretched their lead on day three, Du Plessis rotated his bowlers to perfection, cajoling the best out of not only his two experienced openers but also Morris and left-arm spinner Keshav Maharaj before bringing Duanne Olivier back to bowl at the tail, providing the young seamer the chance to boost his confidence at the end of a difficult Test for him.
His field settings, too, were well thought out with fielders often placed in slightly unusual positions. Moeen Ali was caught twice by such fielders and even when those fielders were not directly involved, more than once they contributed to wickets by unsettling the England batsmen and forcing them to rethink their approach.
Despite a heavy defeat, Root has shown much promise in his short time at the helm and he could do far worse than looking at Du Plessis for inspiration when looking at how he can take England forward.
Reckless reviews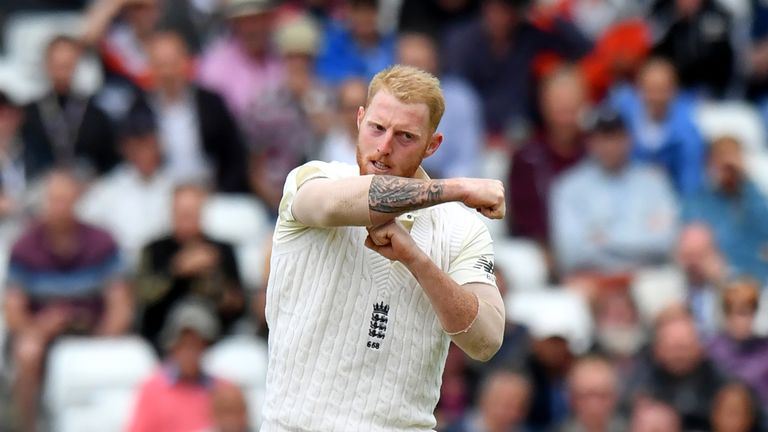 "It's absolute chaos out there. There is no set procedure." That was Nasser Hussain's damning assessment of England's use of DRS during the second Test.
Just one successful review out of five taken out in the field over the two innings bares that out, and that is even before looking at the one crucial review that England opted not to take on the third morning - Hashim Amla, on 25, allowed to continue after UltraEdge showed he had feathered the ball behind.
The Proteas No 3 was eventually out for 87, funnily enough, the victim of England's only successful bowling review.
Hussain pointed to the Andrew Strauss era with Matt Prior behind the stumps as England's most successful in terms of how they used DRS but the cool, calm approach seen then was sadly lacking at Trent Bridge with reviews called for too impulsively and often wastefully.
The challenge for Root is to use, the admittedly limited, time to weigh up the decision, learn to take a little less notice of the unavoidably biased opinion of the bowler and perhaps put more responsibility on the shoulders of his wicketkeeper, Bairstow, who should have as good a view as anyone.
However they go about it, England cannot avoid to throw away their precious reviews so frivolously.
Top order troubles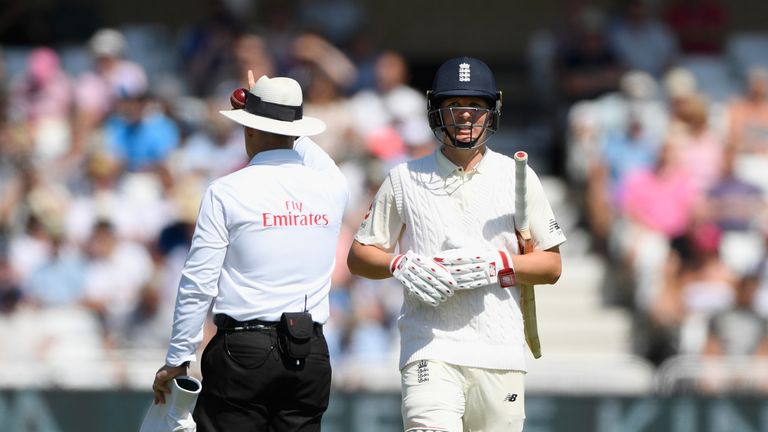 Here we are again. Another summer, another rejigged top order and just two Tests in, another barrage of questions over their ability to cut it at the highest level.
Keaton Jennings and Gary Ballance are the two men in the firing line after failing to make a significant score between them in four innings during this series. The pair, along with Alastair Cook, who has at least mustered a half-century, have found themselves pinned down, peppered and eventually put out of their misery by Philander and Morkel.
Ballance has been here before - twice - and despite piling on the runs in county cricket looks to have done little to alter his technique and so it is little surprise that the same deficiencies have being exposed again, while, Jennings, after a century on his Test debut, has been short of runs and looks woefully out of nick.
That the top three are all left-handers has also led to questions, especially given the South African opening bowlers' renowned abilities against lefties, and calls for Joe Root to move back to No 3 have already begun.
"Call me old fashioned but the best player in the side should be batting at No 3," said Bob Willis. "I've said it often, if you're 0-1, in he comes, he's got the technique to fend off that new ball and save the innings, if you like.
"If he comes in at 190-1 then he got the skills to press on and make a massive first innings score or, indeed, a second innings score in a run chase."
This one looks likely to run and run…