Samit Patel can shore up a fragile batting line up in the second Test, says Nasser Hussain
Nasser Hussain says England must stand by Samit Patel to protect a fragile top order in Mumbai.
Last Updated: 19/11/12 10:02am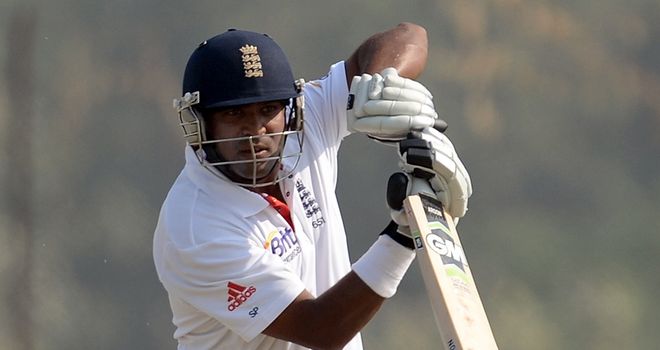 After watching England slip to a heavy nine wicket defeat in Ahmedabad, there have been calls for the tourists to strengthen their bowling attack with the addition of another seamer, such as Steven Finn, or a second spin option in Monty Panesar.
Hussain is in favour of Panesar making the Mumbai selection, but would bring the Sussex tweaker in for Tim Bresnan and use Samit Patel as an auxiliary spinner, rather than as a fifth bowler.
"I quite like the idea of going with an extra bowler because Matt Prior is definitely a Test match number six but what concerns me about that in Mumbai is you've got a lad playing in his second match - opener Nick Compton - who did alright but you don't know how he'll do in the next one," said Hussain.
"You've then got Jonny Bairstow coming in for Ian Bell [who has returned home on paternity leave] at five and it's his first ever match in India. He's done alright against Dale Steyn and Morne Morkel, but we've not seen him with men around the bat.
"Bell is a fantastic player. Ok he's had a bad week at the office but haven't we all had that before? If he was still here I'd debate playing a top five, Prior at six and a lot more bowling, but he's not, so I'd have to keep Patel in because he got runs in the warm-up games and got a couple of shocking decisions."
Plenty to prove
However, Hussain says the Nottinghamshire man still has plenty to prove in the five-day format.
"The jury is so out on Samit Patel," he said.
"He's got a couple of poor decisions in this Test match so you can't leave him out because of that but the jury's out because you're playing him to bowl a few overs.
"Why would you take Panesar or Graeme Swann off to bowl Patel? If you're picking two spinners they should bowl ahead of him every time.
"And if you're just playing him as a batsman, I've got a gut feeling Eoin Morgan, the way he plays, might get more runs.
"But he got runs in the warm-up games so I'd keep him in for Mumbai."
Spin the key
Hussain is a big advocate of Panesar, though, and insisted his spin skills could be key to England levelling the series.
"There's all this talk about India playing spin well but in the first innings Graeme Swann got five wickets and bowled pretty well," he said.
"Monty Panesar is a seriously good bowler. If he doesn't play in these conditions he never will. Last time they were in Mumbai Shaun Udal bowled them out, so it does spin there."
And the former England skipper also urged the selectors to be patient with the tourists' tried and tested top order batsmen, particularly Jonathan Trott, despite his double failure in the first Test.
"We've all got short memories if we're leaving Jonathan Trott out," he said.
"Look at Alastair Cook's second innings [176] and the tempo of that innings. Name another England batsman who can bat at that tempo and that's Jonathan Trott.
"He's going through a lean trot - excuse the pun - but he's a good player and we mustn't forget what he's done in the past. I'd keep him in."