Top class players make Big Bash League fascinating contest, says Matt Floyd
The Big Bash League starts on Friday - and Sky Sports' Matt Floyd can't wait to see Shane Warne in action.
By Matt Floyd
Last Updated: 06/12/12 3:02pm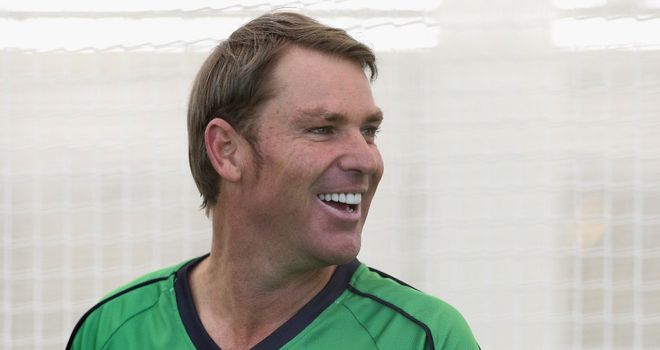 During the event he'll be blogging for skysports.com with his thoughts on the contest as the competition unfolds...
Australia's domestic Twenty20 competition - The Big Bash League - was a huge success last year and Sky have picked up the rights to the second edition. It gets underway on Friday 7 December and you can see it live on Sky Sports 3 HD from 8am.
Australian cricket, despite the recent Test defeat to South Africa, has been on an upward curve for a few months now and the Big Bash could provide UK viewers with a valuable insight into the health of the domestic game over there.
After much debate Cricket Australia took the bold step last year of ditching the old state based T20 competition in favour of a city based franchise system that would feature eight teams (Sydney and Melbourne were given two teams each) and despite some scepticism the fans flocked to the stadiums in their thousands, plenty of star names turned out and some very competitive cricket was played.
This year it will be no different with the likes of Chris Gayle, Lasith Malinga, Saeed Ajmal, Sunil Narine, Marlon Samuels, Shane Warne, Muttiah Muralitharan, Ricky Ponting, Matt Prior and most of the Australian Test team lined up to play.
The appearance of Warne and Ponting in particular will be fascinating to watch - the legendary leg spinner earlier this week tantalisingly suggested he would consider making himself available for next summer's Ashes and, although he may well have just been trying to drum up some publicity for the Big Bash, there is clearly still a big part of him that believes he can cut it at the highest level.
Whether his body could stand up to the rigours of Test cricket remains to be seen but honestly, who wouldn't want to see him in England in July? I very much doubt we will but you can be sure if he performs well over the next two months his ever present band of supporters will get even louder.
The great thing about T20 tournaments like this is you can see some of your recently retired heroes carry on for just a bit longer and for that reason I'm looking forward to one more lingering look at Ricky Ponting, as well.
Geniuses
Some will say that these guys would be better off not stretching out their careers after retiring from the international game but I disagree slightly - players like Warne and Ponting are geniuses and I for one want to be able to watch them play for as long as they can compete to a high level, which I think they will have no problem doing in the Big Bash.
Warne will captain the Melbourne Stars, Ponting has returned to Hobart to play for the Hurricanes and the rest of the tournament's top guns are spread relatively equally amongst the other six teams - the Perth Scorchers, Sydney Thunder, Sydney Sixers, Melbourne Renegades, Brisbane Heat and Adelaide Strikers.
The Sydney Sixers won the inaugural event by beating the Perth Scorchers in the final and also looked highly impressive while sweeping all before them to win the Champions League Twenty20 in October.
They will surely be contenders again, especially once Sunil Narine arrives after the first round to bolster the attack, but they will face stiff competition from the Scorchers (who have a strong batting line up), Warne's Stars (who have strong batting plus Lasith Malinga) and the Hurricanes.
This being T20 though, I won't be putting my house on any of these teams!
It all kicks off with the Melbourne derby between the Renegades and the Stars, aka Murali v Warne.
Just the smallest glimpse of the old magic will do me.