Joe Root has no obvious flaws to exploit, says Nasser Hussain
Nasser Hussain says the great thing about Joe Root is there's no obvious way to get him out.
Last Updated: 18/05/13 7:37pm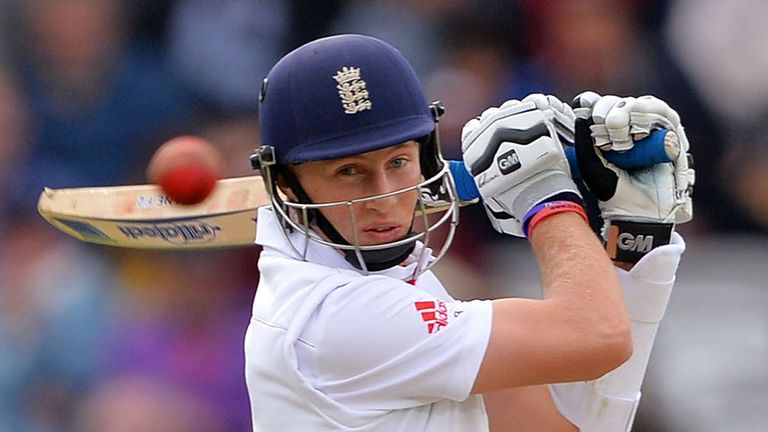 That was the question posed by Nasser Hussain after he watched another confident display at the crease from the 22-year-old on day three of the first Test against New Zealand at Lord's.
The Yorkshire man's stroke-making was imperious once again and he dealt with everything New Zealand threw at him in a knock of 71 before he was eventually bowled by Tim Southee late in the day.
And Hussain says that ahead of this summer's Ashes, Root has displayed no obvious flaws for Australia's bowlers to exploit.
"He ticks every box," he told Sky Sports.
"He's very composed, he's mentally got it and he's technically got it. There's nobody looking at him and saying he's technically rubbish.
"He plays pace bowling well, they went at him with some short stuff and he put it away. He came into the side in India and got runs so he plays spin well and we saw the way he played today.
"He plays all around the wicket. Today he has cut well, especially off the spinner and he used the pace of the spinner when he's dropped one short and put those boundaries away.
"The biggest thing you can say about him is that we've seen him for a little while now and there's no obvious glaring way of getting him out, either mentally or technically. He's got a big, big future.
"With all of us there was something. With Bairstow it was the short ball, with Compton it's getting up on his heels a little bit.
"But if Australia's analyst is sitting there saying how are we going to get this lad Root out then they're not sitting there with loads of ideas. They're going to have to work it out.
"His stats speak for themselves. If he gets 200-odd runs at Headingley he'll get a thousand before the end of May. I think Graeme Hick did that about nine years ago.
"He's in phenomenal nick."
Prepared
Root's dismissal prompted a mini-collapse from England in the final 30 minutes of the day as Johnny Bairstow (5), Matt Prior (0) and Jonathan Trott (56) all succumbed late on.
Hussain was particularly alarmed to see Prior, who hit an unbeaten 110 to rescue the series for England the last time these sides met in Auckland, dismissed for no runs for the second time in the match.
And he said the decision to turn down a big single - a call that left Trott visibly agitated - was a sign that the wicketkeeper wasn't prepared for his arrival at the crease.
"It was a very odd innings by Matt Prior," Hussain added.
"Sometimes when you do something brilliant it's very difficult to follow up. I remember Mike Atherton got 185 in Johannesburg when he batted for a week and the next time he went there he bagged a pair.
"The last time Prior played against New Zealand he played brilliantly and batted all day. Then he comes here and bagged a pair.
"Turning down that single was a very odd moment, to be honest. It was a massive single for somebody on a pair at Lord's, especially a senior player like Matt Prior, one of the top 10 batsmen in the world.
"It looked to me like Matt Prior wasn't expecting to bat tonight and just switched off a little bit. This game bites you on the backside if you do that."