Benaud to Botham
As part of our Ashes history series, Dave Tickner looks at an era where England started and finished on top, with plenty of Australian Test victories in between...
Last Updated: 06/07/15 9:53pm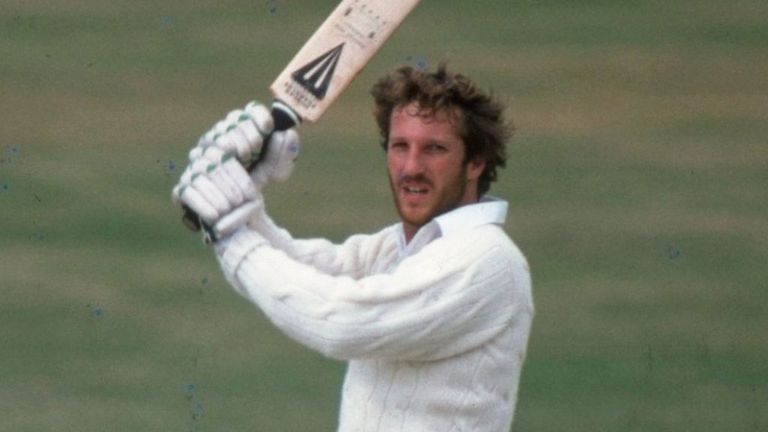 We look at an era where England started and finished on top, with plenty of Australian victories in between.
An excellent, youthful England side led by Len Hutton retained the Ashes in 1954/5, a first series victory on Australian soil since Bodyline. Frank Tyson and Brian Statham starred with the ball, Colin Cowdrey and Peter May with the bat.
The only blip came in the first Test at Brisbane, when Hutton made what would in the future come to be known as 'Hussain's Call': inserting Australia on an excellent Gabba pitch and finding yourself on the wrong end of a thrashing. Left-handers Harvey (162) and Morris (153) put on 202 for the third wicket as Australia racked up 601 on their way to a victory by an innings and 154 runs.
But England hit back to win the next three Tests and keep possession of the urn.
The 1956 series, won 2-1 by England, is remembered chiefly for the astonishing exploits of Jim Laker.
In the fourth Test at Old Trafford, Laker set one of the few records in the game one can state with absolute confidence will never be broken.
Victory would secure the Ashes for England, but there hadn't been a positive result in a Manchester Ashes Test since 1905.
Laker changed all that with one of the great displays of spin bowling. His match figures of 19/90 saw England to back-to-back innings victories (Laker's 11 wickets had helped England to a first win over Australia at Leeds two weeks earlier) that ensured the Ashes were retained.
England wouldn't win them again for over a decade.
Under the astute guidance of captain Richie Benaud, Australia crushed England 4-0 in 1958/9 and retained the urn for five further series. All of these were tight however, with Australia either retaining the Ashes with a drawn series or prevailing by the odd Test.
In 1961, Benaud's side triumphed 2-1, their customary Lord's success and a victory at Old Trafford sandwiching England's win at Headingley. Statham took his 200th wicket for England; Harvey scored his 20th century for Australia.
Eighteen months later, Statham would overtake Bedser's Test record of 236 victims, while Ken Barrington became only the second man - after Joe Darling - to bring up a century with a six.
But England could not force the series victory they needed. Two draws in the final two Tests left the series locked at 1-1. It was the first drawn Ashes series in Australia, and the urn remained - metaphorically at least - in Aussie hands.
In 1964, Geoffrey Boycott made his Test debut. In unrelated news, four of the five Tests were drawn as Australia retained the Ashes once more with a seven-wicket win at Headingley as Burge's 160 took the tourists from 187 for seven to 389 all out.
In the final Test, Fred Trueman became the first bowler to take 300 Test wickets and announced that whoever broke his record would be "very tired".
After successive 1-1 draws, England finally regained the urn with a 2-0 victory in Australia in 1970/1. Boycott and Edrich became the third opening pair in history to share two century opening stands in a Test while, despite England's victory, two Australian stars emerged: Greg Chappell scored a century on debut in the first Test match played at Perth, while at Adelaide Dennis Lillee took 5/84 in his first Test appearance.
Another fluctuating drawn series, in 1972, saw England retain the Ashes. It started surprisingly - England won the first Test of a home Ashes series for the first time since 1930 - but then took a more familiar course.
Australia won at Lord's by eight wickets, Bob Massie recording extraordinary debut figures of 16/137 before being quietly filed under 'Flattered To Deceive': he played only five more Tests - taking just 15 more wickets - and within 18 months couldn't even get a game for his state side.
After a draw at Trent Bridge, the teams moved on to Headingley. A win for England would secure the Ashes.
England recalled Deadly Derek Underwood, and it soon became clear why. The Headingley pitch had very little grass and a suspicious blue tinge.
The groundsman blamed a freak thunderstorm and a microscopic fungal infection of what little grass was left called fusarium. The Aussies suspected dirty tricks.
Underwood took six for 45 as Australia were skittled for 136 in their second innings, and England retained the Ashes with a nine-wicket win.
Benaud, always the king of understatement, described it as a "very unusual Test match".
The final Test was extended to six days. Doug Walters - an Australia legend who scored frightening amounts of runs everywhere except England - was finally dropped.
The Chappells each scored centuries in the first 200-run stand in Test cricket by brothers, before five more wickets for Lillee (who took 31 in the series) saw the Aussies to a series-squaring victory on the sixth afternoon.
The next series was another classic, as Ian Chappell's clinical Australians dispatched England 4-1 in a six-Test rubber in 1974/5.
The series was dominated by Australia's pace attack. Lillee and Jeff Thomson were the spearheads, ably supported by Max Walker.
Lillee's classical fast bowling and the outrageous speed generated by Thomson's javelin thrower's technique proved too much for the England batsman.
Thomson took 33 wickets at 18s, Lillee 25 at 24 and Walker 23 at 30.
England's ageing side - 42-year-old Cowdrey and 41-year-old Fred Titmus (who had lost four toes in a boating accident in 1968) answered the SOS call - had no answer, while the captain Mike Denness endured such a torrid time he took the decision to drop himself.
He came back to score 188 in England's final-Test victory (Australia's familiar problem with dead rubbers) but his was a well-beaten side.
The following summer, Australia stayed in England after the World Cup for a four-Test series. Graham Gooch bagged a pair on debut, John Edrich made his last and highest Ashes century (175) at Lord's, and a streaker made their first appearance at an English cricket ground.
Denness, perhaps still shellshocked from his struggles that winter, inserted the Australians in the first Test at Edgbaston. It proved disastrous. England found themselves trapped on a wet pitch and beaten by an innings.
The last three Tests were drawn - most infamously at Headingley where the match was abandoned ahead of the final day's play because the pitch had been sabotaged.
The protestors, it turned out, were trying to get one George Davis released from his 20-year prison sentence.
The match had been finely poised: Australia were 225/3 in pursuit of 445 for victory. In the event, rain arrived early in the morning and would have surely denied England victory. But try telling Tony Greig that.
England's unlikely hero of the series was David Steele of Northamptonshire. At 34, bespectacled and prematurely grey, he was plucked from county cricket and produced a series of stoic back-to-the-wall innings to resist the Australian charge.
Australia, meanwhile, owed their victory to more familiar faces. Ian Chappell, in his 30th and final Test as captain, scored a sensational 192 but was denied a closing victory by Bob Woolmer's stoic 499-minute innings of 149.
Lillee (21 wickets at 22), Thomson (16 at 28) and Walker (14 at 35) were once again the key men with the ball.
In 1976/7, Australia and England contested the centenary Test in Melbourne. The Ashes were not at stake but, in one of those delicious quirks cricket throws up from time to time, Australia won by 45 runs: the exact result of the very first Test one hundred years earlier.
England won the next two series, but the Packer revolution left key players unavailable and left a cloud over the historical validity of the results - particularly 1978/9 when Australia were a shadow of their former selves and lost 5-1.
In 1977, Tony Greig - a Packer player - was replaced as captain by Mike Brearley. Greig had recruited the likes of Underwood and Dennis Amiss for Packer's World Series Cricket, while 10 of the Australia squad had signed up to the unofficial but handsomely paid event.
The shadow hung over the series despite England's 3-0 success and the arrival of a certain IT Botham, who marked his debut at Trent Bridge with a five-wicket haul.
Boycott returned to the side after three years of self-inflicted exile, and famously scored his 100th first-class hundred in the fourth Test on his home turf at Headingley. England won the match by an innings.
The 78/9 series was a disaster for the Australians. The board were losing money as the Tests failed to draw the crowds while the star players were playing in the rival WSC.
The Aussies - with the exception of Rodney Hogg (41 wickets at 12.85) - were left woefully short of firepower and surrendered the Ashes as meekly as they ever have.
A year later, the Australian board had signed a peace deal with Packer. WSC had served its purpose: Packer had the rights to televise Australia matches. It marked a major shift in how cricket was run. Now, TV called the shots.
Packer brought England and West Indies - the biggest box office draws - back to Australia in 79/80 for three-Test series against the Aussies. The MCC agreed, but stipulated that the Ashes would not be at stake.
Australia played alternate Tests against England and West Indies, while there were a whole bunch of one-day internationals as well.
Australia won the Test series against England 3-0. England pretended it didn't matter as the Ashes weren't at stake; Aussies pretended it negated the previous winter's defeat.
Everyone else took joy in the most perfect dismissal in cricket history: Lillee c Willey b Dilley.
And so it was England who held the Ashes heading into the summer of 1981 despite their thrashing eighteen months earlier.
It would prove the most miraculous summer in English cricket. Certainly until 2005.
Both sides had recovered from the Packer episode and were back to full strength. The Aussies had an established opening pair in Wood and Dyson plus the experience of Kim Hughes, Lillee and the keeper Rod Marsh; England had Gooch, Gower and Boycott at the top of the order, Bob Willis spearheading the attack. And Ian Botham. Yet it's impossible to overstate just what a shambles England were midway through the third Test.
Under Botham's captaincy they had lost the first Test, Lillee taking eight wickets and debutant Terry Alderman nine in conditions favouring the bowlers, before the second match at Lord's ended in a rain-affected draw.
Botham had a miserable time of it. He bagged a pair and was famously greeted by silence as he passed the members sat in front of the Lord's pavilion.
He resigned the captaincy before he could be sacked, and the SOS call went out to Brearley who returned to the side as captain.
And so to Headingley, and one of the finest cricket matches ever played.
You all know the story. England trailed by 227 on first innings and were asked to follow on. Soon, they were 135 for seven and staring at an innings defeat and a tame surrender of the urn.
There followed one of the most sensational innings ever played. Botham began flaying the ball to all parts. He added 117 for the eighth wicket with Graham Dilley (56), 67 more with Chris Old and a priceless 37 with Bob Willis (who made just two) before being left stranded on 149 not out.
His innings had thrilled the crowd, and made a mockery of bookies' odds of 500/1 against an England victory (odds that, the story goes, proved too tempting to resist for Dennis Lillee and Rod Marsh).
Yet despite Botham's miraculous innings, Australia still needed only 130 runs for victory.
They would not get them. Willis backed up Botham's batting brilliance with one of the finest spells of fast bowling ever seen, taking 8/43 to give England the unlikeliest of victories by 18 runs.
The series was leveled, and England became only the second team to win a Test match after being forced to follow-on. It was, in short, a miracle.
And another was just around the corner.
The Edgbaston Test was a low-scoring, attritional affair for the most part. But Australia looked to have won the day when needing just 46 more runs to win with six wickets in hand.
But the Botham scriptwriters had another shock in store. In a devastating spell of swing bowling, Botham took five wickets for one run in 28 balls and England, somehow, had a 2-1 lead.
The Somerset all-rounder cemented the legend of Botham's Ashes at Old Trafford, where the joyous slogging of Headingley gave way to clinical, clean striking of a cricket ball. He made 118 in 102 balls, England won by 103 runs and the Ashes were retained.
After a disastrous start, Botham stood astride the series like a colossus. Botham's Ashes has entered the Ashes lexicon as completely as Bodyline and the Invincibles.
Not since Bradman had one man so dominated the Ashes arena - despite Lillee and Alderman taking 81 wickets between them.
The 1982/3 series was another tarnished by politics. This time, it was the South African 'rebel' tour - which left England without Gooch, Boycott, Emburey, Underwood and Knott.
The Aussies regained the Ashes with a 2-1 series victory, but the most memorable match was England's win at Melbourne.
The result appeared a formality when Australia slumped to 218/9 in pursuit of 292 for victory, but Allan Border and Jeff Thomson slowly but surely took their side closer to an unlikely victory.
By stumps on the fourth day, they were just 40 runs from victory.
For the final morning, with free admission, thousands gathered to watch Australia get within four runs of victory before that man Botham dismissed Thomson to give England victory by three runs - at that time equaling the narrowest Ashes victory margin.
In 1985 England regained the Ashes as this time Australia suffered from players lost to rebel South African tours.
David Gower's side clinched the urn with an innings victory in the final Test at The Oval, the captain himself (157) and Gooch (196) sharing a stand of 351. Australia still managed their traditional victory at Lord's - despite Botham's 25th five-wicket haul - but went down 3-1.
England toured Australia in 1986/7 on the back of eight defeats and three draws in their last 11 matches and dismissed as the worst team ever to head down under from these shores.
But Mike Gatting secured his only two victories as England captain to retain the Ashes with a 2-1 victory.
England won at Brisbane after Botham's typically ebullient 138, and at Melbourne thanks to Gladstone Small's 5/48 and Australia's second-innings collapse against the spin of Edmonds and Emburey. Chris Broad emulated Jack Hobbs, Wally Hammond and Bob Woolmer by scoring three successive hundreds against Australia.
England had the Ashes. It would be 18 long years before another England captain would get his hands on the urn.