Women's Ashes: Lydia Greenway takes plaudits as England reclaim urn
Isa Guha hailed Lydia Greenway's 'unbelievable' innings after she fired England to Ashes glory.
Last Updated: 29/08/13 6:13pm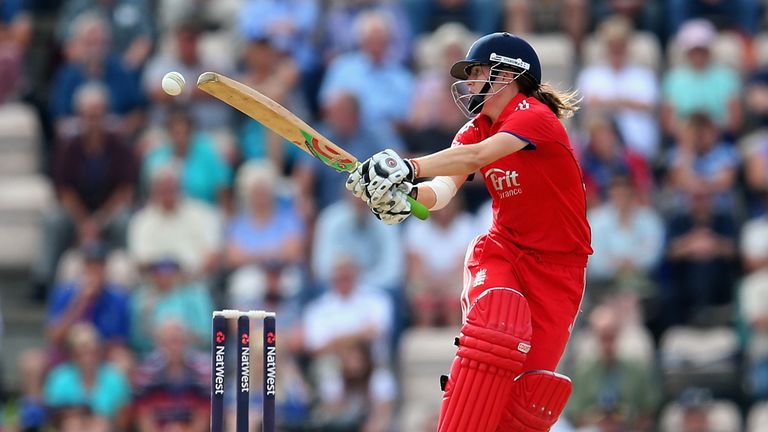 After restricting Australia to a modest 127-7, England were in trouble at 9-3 in reply when left-hander Greenway came to the crease.
However, she took advantage of some questionable field placings with an array of switch hits and dabs to steer England back on course and, with the help of Charlotte Edwards (24) and Natalie Sciver (13), saw the hosts to their target with an over to spare.
"She found the gaps, she batted through and it was an unbelievable innings," said Guha, who won the World Twenty20 with England in 2009.
"Lydia is generally the finisher for England and those reverse sweeps were what punished Australia.
"Fortune favours the brave but she practises it all the time and she used it to great effect.
"She was so good off her legs as well and really came of age here by influencing the win in such a pressure situation.
"At 9-3 she came in to bat under an enormous amount of pressure. She was able to capitalise on a few naïve fields by Australia, who also bowled to her strengths, but it was excellent stuff."
Capitalise
Clare Connor, the ECB Head of Women's Cricket, was equally impressed with Greenway's knock - but said the tourists could have performed better in the field.
Greenway could have been stumped by Australia captain Jodie Fields early in her innings, while ones and twos were regularly on offer for the English batters.
"It's those moments, such as the stumping, you have to capitalise on," said Connor.
"Jodie Fields hasn't had a good series behind the stumps and England have made her pay here because Greenway has gone on and played to her strengths.
"Australia didn't necessarily respond in the field in terms of their field placings - there were not many fielders behind square on either side and she milked it.
"But this is massively important [to win the Ashes]. It's our big contest, aside from the World Cup and the World Twenty20."
Success
The victory moves England into an unassailable 10-4 lead in the series with one T20 to play and Guha says the new points system, which tests the teams across all formats of the game, has been a resounding success.
"I really like this format," she said. "It's worked really well.
"The Ashes is generally a battle between two high quality teams which lasts a long period of time and that's what this format is.
"It creates interest over a long period of time and we saw with the crowd today and the full house at Chelmsford for a stand-alone women's game it's been a success.
"It was also brought in because historically the women have only played the Test over one game so whoever held the urn has been able to play for a draw.
"The new points system means the team who holds it has to play for a win as well."