We look back on the highlights of the fourth day of the second Test
England finally showed some form with the bat to hold up Australia's victory march in Adelaide.
By Rob Lancaster
Last Updated: 08/12/13 7:40pm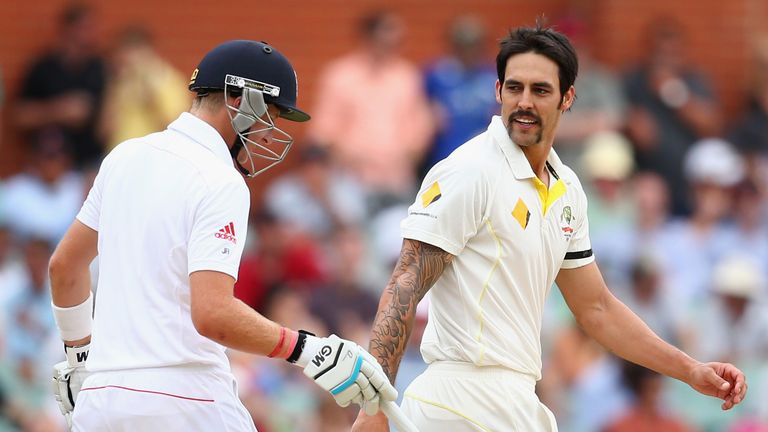 Joe Root led the way with 87 while Kevin Pietersen chipped in with 53, the pair adding a fourth-wicket stand of 111, as the tourists passed 200 for the first time in the series.
By the close they had reached 247-6, a much-improved effort on the 172 they managed first time around but still way off the 531 they had been set for victory.
Australia skipper Michael Clarke had opted not to continue batting in the morning, denying David Warner - who was unbeaten on 83 overnight - the chance to make his second century of the series.
Still, the hosts will return on day five knowing they need just four more wickets to double their lead and put themselves in pole position to reclaim the miniature urn.
We take a look back on the action with a range of opinion, analysis and video.
Fighting spirit
While defeat seems likely no matter what (unless Adelaide gets hit by rain of biblical proportions on Monday), it was important that England finally showed some fortitude with the bat to at least delay what is seemingly the inevitable. It is also vital that they find some form with three Tests still to go, particularly with a bouncy pitch at Perth to come next. Root certainly seized the chance to spend some time in the middle, perhaps also proving he is the right man for number three in the order too, as he battled hard during his 194-ball knock that included nine fours. The Yorkshireman showed his patriotic side in his interview after play, stating: "We're going to have to make sure we keep fronting up and keep trying to trying ourselves in practice and when we get out there make sure we get in a scrap and we do the country proud." Shane Warne was certainly impressed, labelling Root has a potential England captain of the future.
Fighting spirit (continued)
Sir Ian Botham was never a man who gave up easily, just ask those Australia players who were in action at Headingley in 1981 (even those that ended up making a profit!). The former England captain was happy to see Alastair Cook's side dig in on day four in a bid to make amends for their "terrible" first innings score of 172 on such a flat, benign surface. He also rejected the idea that some of the current XI find themselves now playing for their places - "The best way England can put it right is to say 'ok, you guys have got us in this mess, now you go and get us out'." Worringly, though, Beefy does believe England could be in serious danger of being whitewashed if they lose for a seventh straight Test in Perth.
War of words
"A bit of argy bargy throughout the day," said David Gower when describing proceedings during a rather prickly Sunday. Fair to say the talk out in the middle continued, and Mitchell Johnson tended to be involved on most occasions. The in-form paceman clearly likes to share a word or two with opponents, though his attempts to get to Joe Root only result in the Yorkshireman responding with a baby-faced smile. Ben Stokes opted for a different policy, widening his eyes and looking straight back at the bowler. Even at the close there were still conversations going on, Stuart Broad sharing a conversation as he and Matt Prior trudged off. Nasser Hussain felt that while obviously 'a character', Johnson never usually goes over the top with his antics.
Opening up
David Warner has had an eventful international career, and not just on the field either. His altercation with Root in a Birmingham bar during the summer cost him a place in Australia's Test side at the start of the Ashes, and also led to him becoming the main target for the English crowds (well they had to find someone else with Mitchell Johnson not involved, didn't they?). Now back at the top of the order and in excellent form, Warner is one of the most destructive batsmen in world cricket in any format. But do you know that he used to work in Woolworths? Or when aged 11 a coach tried to turn him into a right-hander? See the softer side to Warner as he tells all about his childhood growing up in Sydney and the importance of family in his life.