Bresnan revels in T20 challenge
Tim Bresnan is ready for his position of "responsibility" for England in Twenty20 cricket.
Last Updated: 14/09/11 8:14am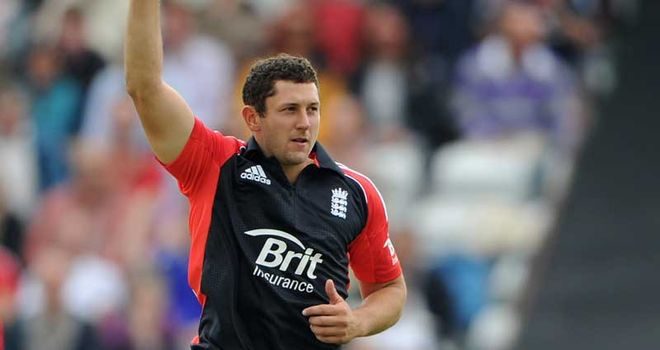 Tim Bresnan has assumed a position of significant responsibility for England in Twenty20 cricket.
The Yorkshire all-rounder was even hoping he might be named as the man to replace the injured Stuart Broad as captain of a squad to face West Indies at the Oval next week.
But even if others - Graeme Swann, Ian Bell, one-day international captain Alastair Cook, or even former incumbent Kevin Pietersen - were the selectors' more obvious choices, Bresnan has proved already that he can rise to some of international cricket's toughest challenges.
It is part of Bresnan's brief to bowl with the new ball, and then again at the end, in Twenty20 fixtures - the times when batsmen are most intent on hitting everything out of the ground.
Self-belief
But as an ICC World Twenty20 winner, and having helped England to Twenty20 victories in each of his last nine appearance, he has a bank of self-belief.
"The times I bowl anyway are pretty responsible, up front and at the death," he said.
"You can't really get much tougher as a seamer than that. But I enjoy that responsibility, and I feel as though I've got the skills to pull it off.
"I actually do enjoy the batters coming at me."
The 26-year-old has demonstrated the value of the same fearless attitude, with bat as well as ball, in Test cricket - as an Ashes-winner last winter - and with nuggety innings down the order to help England clinch the ongoing NatWest Series against India 2-0 with one to play.
"The bigger challenges bring the best out of me," he added.
"There's no real point not believing in yourself, that you can do anything.
"If there's a tough situation I want the ball, to be part of it."