Swann eyes 400
Graeme Swann says England will be looking to push on and score 400 in their first innings of the second Test in Columbo.
Last Updated: 04/04/12 2:38pm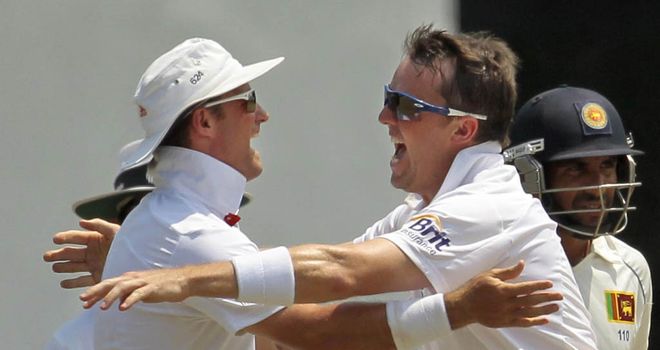 Graeme Swann says England will be looking to push on and score 400 in their first innings of the second Test in Columbo.
Having resumed in the morning on 238-6, Sri Lanka were bowled out for 275 and England responded well, making 154-1 at stumps, just 121 runs behind the hosts.
Skipper Andrew Strauss made 61, while his opening partner Alastair Cook finished 77 not out alongside Jonathan Trott (15 not out).
Swann, who recorded figures of 4-75, told Sky Sports 1: "I think we are in a good position. Obviously taking those four wickets fairly quickly this morning was the major thing and then to get a good start.
"And I think Straussy and Cooky were exceptional again for us at the top. 150 (so far) we're about 130 behind so we're in a good position but we're by no means completely there yet."
As whether he thought 275 for Sri Lanka was below par, Swann replied: "I'm not sure really.
Attritional cricket
"It's very tricky because it's fairly attritional cricket out there - it's quite a slow wicket, it's quite hard to score on - so you never really know whether a first innings score is enough until you've both batted.
"We will certainly be looking to push on past that - we've got to look for 400 I think."
He added: "We were happy to keep them down to 270 if I'm honest, but obviously we want to get more than that."
Swann got key man Mahela Jayawardene out on Tuesday and then picked up three wickets on Wednesday as England wrapped up the Sri Lankan innings quickly.
He said: "To pick him up it was more of a bonus than anything else at the end of the day - it certainly wasn't the ball I was trying to bowl to him, I was just trying to keep him quiet.
"So to get him out last night and then pick up three today obviously makes me very happy."
Strauss praise
Swann believes Strauss answered some of his critics after his half-century in Colombo.
"He proved himself today, he got another good start, and he'll be kicking himself he got 50 and didn't go on," Swann said.
"We're very happy. He's been having a few questions asked of him in the media. Everyone is behind him."
Asked if he thought the media pressure on Strauss was justified, Swann added: "Personally I don't, I'm Andrew Strauss' greatest ally.
"I think we should let him get on with scoring the hundreds he will undoubtedly do.
"He's probably frustrated, he's been in good form. Every time he bats he gets a start. He's probably in one of those patches when you don't quite perform as you like."