England head coach Andy Flower was full of praise for his men after their series victory in India
England head coach Andy Flower was full of praise for his men after their series victory in India.
Last Updated: 17/12/12 2:53pm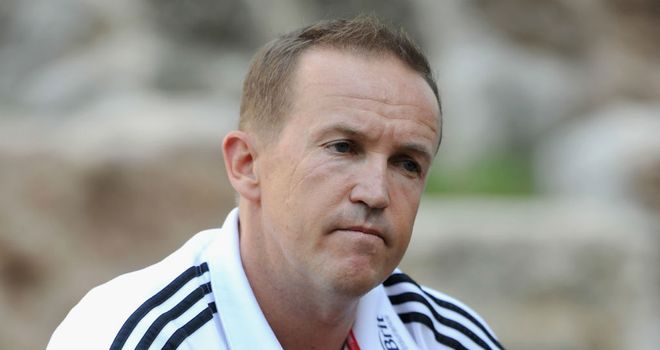 Led by new captain Alastair Cook, the tourists fought back from a Test down and sealed a 2-1 win with a clinical draw in Nagpur.
It was doubly satisfying for Flower, whose side had been pilloried after an opening nine-wicket drubbing in Ahmedabad - specifically for an alleged incompetence when facing spin.
Flower told Sky Sports: "It's a great achievement for the boys. They've really done themselves and their country proud here, to come out here and show that they've learned things has been one of the special things about this victory.
"They've learned how to play spin a lot better. They're obviously not the finished articles but they've also learned how to take 20 wickets in these conditions and how to be resilient. Those are all things they can be very proud of.
"It's nice for the faith to be repaid. After that first Test loss, I was heartened by the way we played in the second half of the first innings, I was heartened by the way we played in the second innings. I'd also seen the work they were doing in training.
"I was convinced that they were better players of spin than they showed in that first innings in Ahmedabad. That is why I asked you guys (the press) to relax your judgment until the end of the series.
"We didn't know which way it was going to go but I think they've proved that they've learned a lot - especially some of the older players. It's testament to their humility and maturity to continue their learning into this phase of their careers."
The defeat in Ahmedabad could've been even more demoralising had it not been for a defiant second-innings 176 from captain Cook, and Flower felt that the knock was crucial in providing hope for the other batsman.
He said: "It was vitally important as a lead and as evidence that run could be scored if you use your brain and show courage and discipline.
"For the captain to do that was especially important. He's been very influential in the series. We're very lucky to have followed a quality bloke like Andrew Strauss with a quality bloke like Alastair Cook."
Another issue surrounding the touring party was the reintegration of the enigmatic Kevin Pietersen, but his colossal 186 in Mumbai swung the second Test decisively in England's favour and set up the victory surge.
Flower said of the controversial batsman: "Kevin has been excellent since he's been back with the England side. The guys have enjoyed having him around and he's fitted in very easily. Everyone's made an effort to make it work, and it has worked.
"He played superbly and his innings in Mumbai on a turning track is one of the better innings I've seen on that kind of track. It was a very skilful innings. Even more so because he'd struggled in the first Test. For him to handle that pressure, to turn it around and then dominate the opposition was great testament to his nerve under pressure."