Jonathan Trott to take immediate break from cricket due to repeat of stress-related illness
England batsman Jonathan Trott is to take a second break from all cricket due to a repeat of stress-related illness.
Last Updated: 18/04/14 10:18pm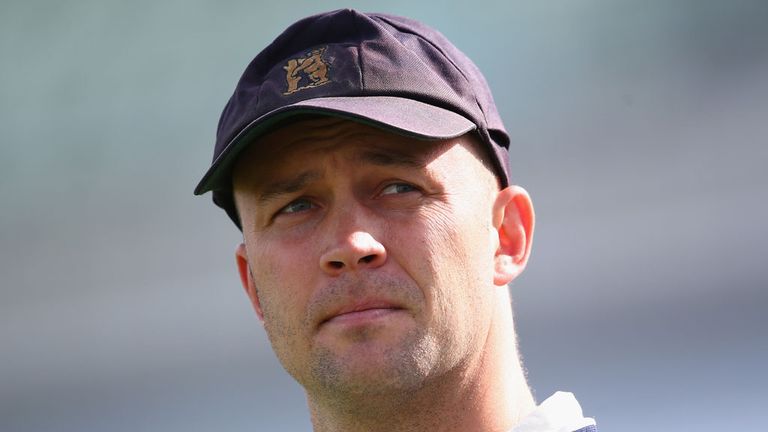 The 32-year-old recently returned to action with his county Warwickshire after leaving last winter's Ashes tour because of a stress-related illness.
However, the England and Wales Cricket Board and Warwickshire have released a joint-statement stating that Trott had experienced a repeat of the symptoms diagnosed during his time in Australia and will now take an indefinite break from the game.
"At the completion of the LV County Championship match between Warwickshire and Sussex on April 16, 2014 - in which he played - Jonathan experienced a repeat of stress-related symptoms which were diagnosed during England's Ashes series in Australia in the winter," read the statement.
"Jonathan will now undergo further treatment to assist with his long-term rehabilitation.
"Both parties confirm that their primary concerns are for Jonathan's health and well-being, and re-iterate that they will continue to offer him their full support."
Trott, who scored 37 and 26 in Warwickshire's opening championship fixture against Sussex, was also quoted in the statement.
Anxieties
"It was with the best intentions and hope that I returned to cricket with Warwickshire this month," he said. "Much to my disappointment, since my first game, I have felt the same anxieties that occurred during my time in Australia.
"It is not fair on my team-mates or myself to continue when I am unable to function at 100 per cent.
"In order to play at the highest level you have to be at 100 per cent and be able to concentrate fully at all times. Sadly I am unable to do this.
"With this in mind I have decided it is best for all involved that I continue my recovery on the sidelines for the time being. I would like to thank Warwickshire and the ECB for their continued support through this time."
ECB Chief Medical Officer, Dr. Nick Peirce, added: "Despite Jonathan wanting to play for Warwickshire from the start of the season, having spent time with him yesterday it is clear that he will benefit from a further period away from the game.
"He will continue with the comprehensive support programme the ECB has put in place to assist his rehabilitation."
Trott has been an accomplished Test performer for England since making his debut in 2009, filling the number three spot in the order with aplomb.
He has played in 49 Tests, scoring nine centuries and 18 half-centuries.
His 3,763 runs have come at an average of 46.45 and his highest score is the 226 he made against Bangladesh at Lord's in 2010.