England hero Chris Jordan insists he does not find hitting sixes easy
England's new one-day international hero Chris Jordan says hitting sixes is not something that comes easily to him.
Last Updated: 23/05/14 5:21pm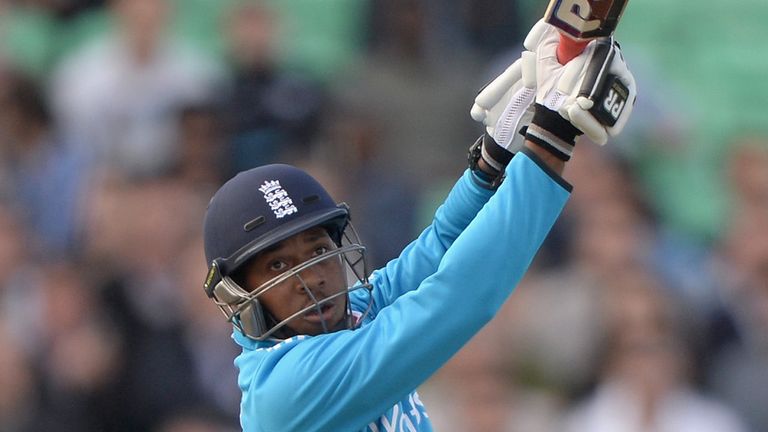 The Sussex all-rounder made it look easy on Thursday, smashing Sri Lanka's experienced duo Lasith Malinga and Nuwan Kulasekara into the Oval stands as he thumped a brilliant 38no off just 13 balls in England's victory.
For good measure, all-rounder Jordan then added his best bowling figures to date in ODI cricket too with 3-25 as England won impressively by 81 runs in the first of the five-match series.
Jordan clubbed West Indies star Dwayne Bravo for four sixes in an over in a Twenty20 match in his native Barbados two months ago.
He has now hit eight sixes for England from the 120 balls he has faced at this level - as many already as Joe Root and only one fewer than Alastair Cook, after their combined 119 matches.
He stands deep in the crease to achieve elevation in whichever direction, and Jordan finds his speciality far from easy.
"It's not something I've always felt confident of doing," he said. "It's an area of my game that I identified I needed to improve. I'm working every day at it. You have to.
"Range-hitting is something I practise quite often."
The way he dealt with Malinga is particularly impressive.
"We saw the other night in the Twenty20 that he finished off the game brilliantly," Jordan said. "He is obviously paid the big bucks in the IPL and Twenty20 tournaments all over the world.
"I was just glad I was able to stay as still as possible and get a good bat on it.
"I try to enjoy myself and have fun on the pitch every time I go out there - because you never know if it could be your last game," he said.
"I try to leave everything on the pitch every time I play. I'm a very ambitious player and do want bigger and better things.
"There are few new faces in the side and guys who are trying to make a statement. I hope I can be part of that."
Jordan's rise to the top may continue this summer - he is being strongly tipped for a place in the Test team. No-one would have predicted that a few years ago when he was at Surrey, in and out of the team and struggling with injuries, one of which kept him out of the whole of the 2010 season.
He moved to Sussex ahead of the 2013 season, and he has not looked back.
"The family environment down there has been a real key part of my development," he added.
"They made me feel really welcome and at home. I've really enjoyed the move so far.
"I consider myself to be very mentally strong - and even though Surrey released me, I was still in a good place.
"I felt as though my game was still improving, I was doing well in the nets - and I was getting my body nice and strong."