England v India: Andrew Strauss backs successor Alastair Cook to stay on as captain
Last Updated: 21/07/14 12:05pm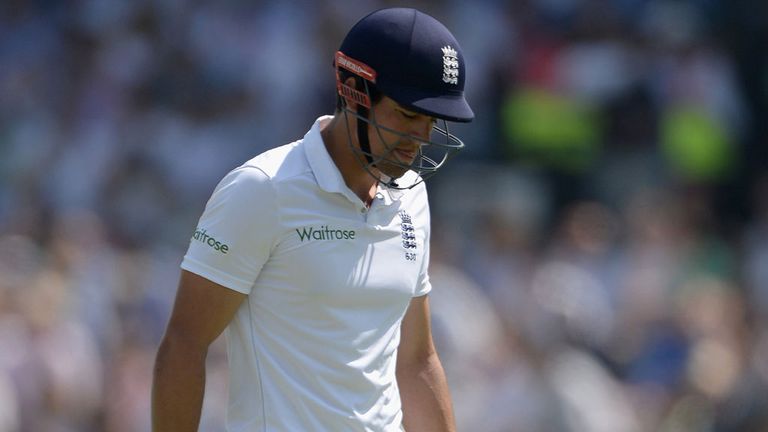 Alastair Cook will remain England captain for now unless he decides otherwise, according to his predecessor.
Cook's latest failure with the bat against India at Lord's means he has now gone 27 innings since scoring the last of his record 25 Test hundreds.
The skipper has also failed to win a Test match since the fourth instalment of last year's home Ashes series - nine matches ago.
But Cook has shown no inclination to stand down, and Andrew Strauss cannot see his successor being relieved of his duties just two games into a five-match series.
"I don't think he's going to be sacked," Strauss told Sky Sports News. "I think the ECB have placed a lot of faith in Alastair Cook. I also think halfway through the series, with the series still alive, would be the wrong time to do it.
"I still think the best case for England, certainly in the short term, is for Alastair Cook to regain form and for England to find a way of winning this Test series, and then the picture's looking a lot rosier than it is right at the moment.
"Unless Alastair Cook, deep down, thinks 'I can't continue any more, the pressure's getting too much for me, it's affecting my batting too much' and calls it a day himself, I do expect him to be captaining in the next Test match."
England's assistant coach Paul Farbrace made light of Cook's problems after the fourth day's play at Lord's saw the opener dismissed in familiar fashion - prodding outside off stump - for a 93-ball 22.
"He's fine," Farbrace said on Sunday. "He's in there chatting to the two lads who are not out, talking about the day tomorrow and looking forward to the scrap. He's absolutely fine."