Shane Warne fined for captaincy switch in Big Bash semi-final
Shane Warne has been fined £3,300 for acting "against the spirit of cricket" during the semi-finals of the Big Bash.
Last Updated: 23/01/13 10:35am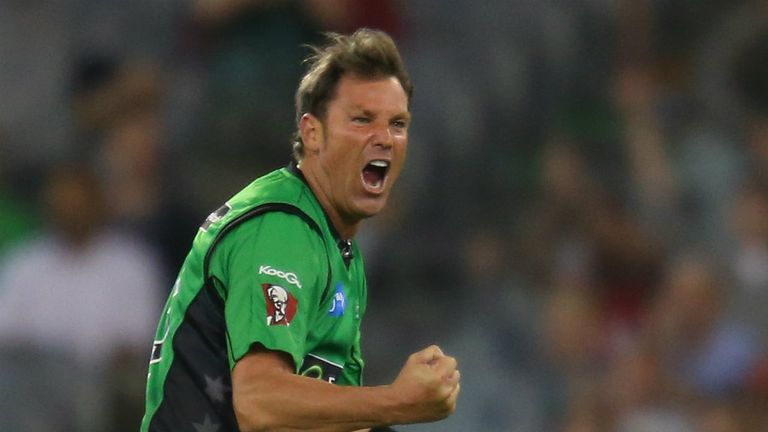 Warne skippered his Melbourne Stars team throughout the round-robin phase, but he then passed the captaincy to team-mate James Faulkner in the semi-final because he wanted to avoid a possible suspension for a slow over rate.
Cricket Australia ruled that the captaincy switch is a code of conduct violation after previously warning teams that: "if a team's official captain is selected but not named as captain...this may attract a code of behaviour charge."
Warne was warned about a slow over rate earlier in the tournament and another offence would have led to a one-match ban, which would have seen the leg-spinning legend miss the final, had the Stars made it.
"I had no idea about the rule/law," Warne tweeted. "If I was aware of the law/rule I would have tossed the coin.
"I should have been informed and made aware by management. Anyway, disappointed it was not a Stars fine rather than me as I was never informed."
Melbourne Stars chief executive Clint Cooper said he accepted Warne was not aware of the captaincy rule
Cooper said he and team manager Ben Robertson "equally shoulder the responsibility of the breach given the miscommunication between team management and Warne.
"We hope this blemish on Shane's record doesn't overshadow what he has contributed and achieved in the game over the last 25 years."
Melbourne Renegades all-rounder Marlon Samuels was also reprimanded for "unbecoming behaviour" following his extraordinary confrontation with Warne earlier in the tournament.
Samuels threw his bat in the direction of Warne but Cricket Australia did not fine him as they judged he acted under "extreme provocation".