Ricky Ponting and Mike Hussey rule out returning for Ashes series
Ricky Ponting and Mike Hussey have ruled out returning to the Australia team for this summer's Ashes series in England.
Last Updated: 20/03/13 3:59pm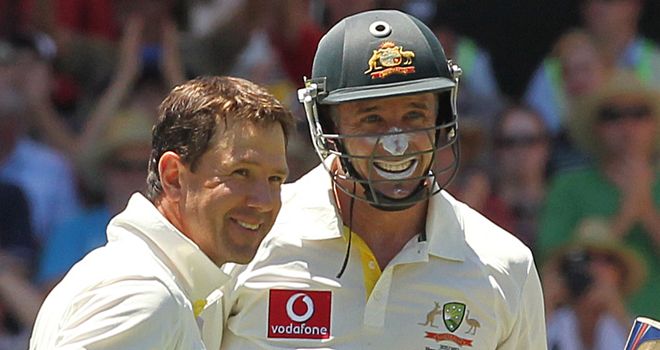 Australia's inexperienced batting line-up has been badly exposed in their ongoing series in India where they find themselves 3-0 down.
Coach Mickey Arthur hinted that he may welcome the two veterans back to the squad if they performed a u-turn, saying: "We'd certainly listen to Mike Hussey if Mike Hussey came knocking at our door.
"But that's a hypothetical at the moment. He's retired. We've moved on now. Yeah we miss him. We miss the aura of Ricky Ponting."
Arthur qualified his remarks, insisting it was up to the younger players to step up to the mark in England.
But Ponting and Hussey have now ruled out any prospect of returning.
Retire
Ponting said: "International cricket has long passed me by and I've just been really excited about giving back to Tasmanian cricket whatever I could for this season.
"The decision you make to retire, when you do, is a very big one. I know I put a lot of time and thought into making the decision that I made for all the right reasons."
Hussey also ruled out any thoughts he might return to the Baggy Green following Arthur's comments.
The 37-year-old shocked Australian cricket when he called time on his career in January to spend more time with his family.
"It's extremely flattering," Hussey said. "But I've moved on and I really don't want to be back in that pressure-cooker environment, particularly leading into the Ashes.
"It's going to be an extremely stressful time for all the boys. I'm really looking forward to having a winter at home and just having some time with the family and being part of some normal life.
"I feel very lucky to have been able to leave on my own terms and leave when I wanted to."