James Pattinson pinpoints Alastair Cook as England's dangerman
James Pattinson admits Australia must find a way to stop Alastair Cook if they are to reclaim the Ashes.
Last Updated: 28/06/13 10:03pm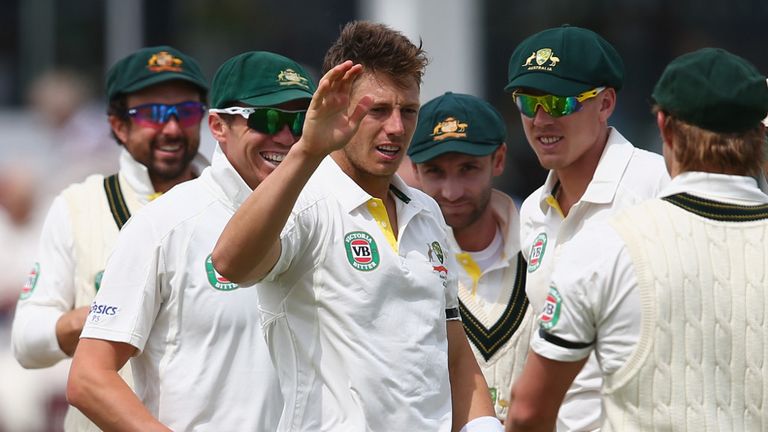 The England skipper led from the front in the last series, with his 766 runs at an average of 127.66 setting the foundation for the tourists in their triumph Down Under.
Pattinson believes Cook is still the dangerman for England and the fast bowler fears he could inspire his side to victory with another series of big scores.
"We know England's strengths and weaknesses and as the first Test gets nearer we will get together as a group and look at some footage of them," he said.
"We are aware that Alastair Cook is their leader and he leads by example so to get him early will be very valuable to us. When he is going well the England team seem to do well too.
"We know that Joe Root will be opening in the Essex game, but we haven't gone into that much yet.
"He's a very good player, who is up and coming and has had some great results so far. I know he faces the new ball for Yorkshire, but it is going to be a different challenge for him doing so in Test cricket.
"Once we get close to the game we will look more closely at it. Nick Compton could still come back in. He looked quite comfortable out there today and seems a compact player, so we'll wait and see."
Preparation
Pattinson took 3-61 as Australia bowled out Somerset for 260 on the third day of the tour match at Taunton.
The Australians require a further 224 runs against Somerset to win with all their second-innings wickets intact and Pattison is pleased with preparations.
"Personally, I felt really good," he said. "It's great that we have been thrown up some conditions that are pretty tough for bowling, with the wicket not offering very much.
"It's fantastic to get that now, rather than being in the first Test with the pitch flat and not knowing what to do.
"We can bowl with the new ball when it is swinging and it's just about how we perform when the conditions aren't favouring us. It's then about working as a team and bowling together, being defensive and attacking at the same time.
"We have a point to prove as a team and, while things will be different come the first Test with a few nerves flying around, there is a good feeling among the group."