South Africa v Australia: Chris Rogers believes Test century saved career
Chris Rogers believes his century in the second Test against South Africa has prolonged his international career.
Last Updated: 25/02/14 11:07am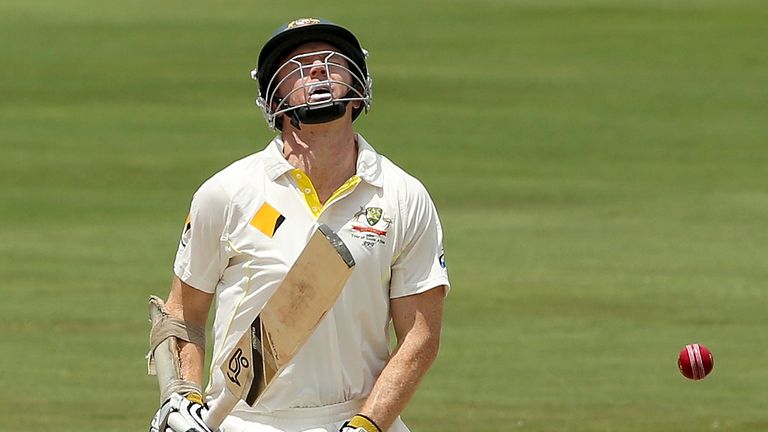 The 35-year-old left-hander had mustered just 10 runs in three innings before posting 107 in a losing cause against the Proteas at Port Elizabeth.
Despite being one of the best batsmen in the back-to-back Ashes series, Rogers felt that his career was always at risk of ending, due to his age.
He said: "I thought it might have been my last day, in some respects. I'm not stupid. I knew full well that I was under pressure. You can't perform the way I had for Australia, particularly when we're doing well. Because there's other guys who want to get into the side.
"I knew I was under pressure and that Shane (Watson) was a good chance to play in the last game. In some respects I stopped worrying. I thought 'whatever happens, happens'.
Worrying
"And I think if anything I'd been worrying about it too much. It was almost a bit of relief to just go out there, not worry about it and just play the situation of the game.
"This was always going to be a big tour for the side and for me personally. I've been trying hard. I probably hit more balls in the nets than I ever have.
"Maybe I've been trying too hard, and that's one of the traps you can get into. Not doing the simple things that you've always done. So I probably just thought it's time to stop worrying and just play, and maybe that helped a little bit in this innings."
He continued: "I guess I'm probably one of the players who performs a bit better when there's extra pressure for some reason and it's helped.
"But it's not a healthy thing, it's quite stressful and it'd be nice if I could be a little more consistent and take the pressure off. But that's the way it goes. It's been a tough journey facing good attacks every Test match.
"There's always going to be a lot of pressure and the bowlers are making it difficult, so I just have to try to get better."
Rogers was gutted by his side's 231-run defeat to South Africa in Port Elizabeth, saying that at one point, when he and David Warner were batting, he actually thought they could win.
The Proteas set the Aussies a target on 448 runs with two days to play, and at one stage the Aussies were on 126 without loss before a spectacular collapse late on day four.
Challenge
Dale Steyn found reverse swing, and took three wickets in 15 deliveries as the bottom eight batsmen made 22 runs between them. Only Rogers ton and Warner 66 were in double figures as the Aussies crashed to a heavy defeat.
A bemused Rogers said: "It was funny. When we were flying and the ball was doing not much I thought 'You know, this is not completely out of reach here'.
"I thought it was going to be a big challenge, and a couple of wickets always changes the complexion of the game, but I though we were half a chance. And then it started just doing plenty. Then it was a completely different game.
"What was really disappointing is going from thinking there was a small sniff of winning to, in the space of half an hour or whatever it was, just hanging on for dear life.
"That was exceptionally disappointing. All credit to them, they bowled so well, but that was tough to take."