The Ashes: Ian Botham backs Alastair Cook's captaincy after Warne criticism
Sir Ian Botham has joined members of the England team in defending Alastair Cook following criticism from Shane Warne.
Last Updated: 04/11/13 1:21pm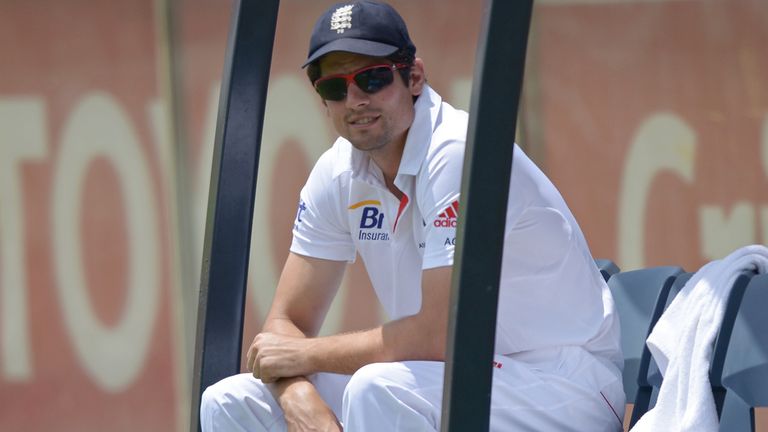 Warne called Cook's tactics "boring and negative" and went on to claim his style of captaincy could cost England the Ashes.
"Cook can be negative, boring and not very imaginative," Warne said. "I don't like that style of captaincy.
"He needs to be more proactive. If Australia play well, and Cook continues to captain the way he does, I think he will lose the series."
However, Botham - speaking on his latest charity walk in Sri Lanka - laughed off Warne's comments and believes Australia should get their own house in order.
"If it's not Warne, it's Glenn McGrath telling everyone they're going to win 5-0," the former England all-rounder told Sky Sports News. "It's all just a bit of friendly banter. I wouldn't expect anything else.
"Cook has been the biggest thorn in their side over the last few years, and he will continue to be in Australia.
"I think Australia should start looking at themselves because they've got problems of their own - they can't defend 360 in a one-day game (against India), not once but twice!
"I feel sorry for their batsmen - they get all the runs and then the bowlers get carted around the ground.
"Australia should look at their own back yard and not worry too much about ours."
James Anderson is one of several England players who have leapt to the defence of his skipper.
"The lads are really enjoying playing for him," he told Sky Sports News. "He leads from the front, leads by example and just drags everyone with him. His passion is there for everyone to see."
Matt Prior was another who was quick to give his backing to Cook.
"There's always going to be scrutiny and the captain, as the leader, is always going to come under fire," he said. 'Cooky' is a very strong person mentally and his record speaks for itself - and he's doing pretty well."
Jonathan Trott claimed Warne's comments were all part and parcel of an Ashes tour and that he was not taking them too seriously.
"There are seven hours to fill each day and five days - that's a lot of hours for people to talk and for players to get scrutinised. To win a series 3-0 - I don't think your tactics can be that bad.
"But I know there are people who think he's inept at it, but everyone in the changing room knows that he's well ahead of people in that department."
Former India cricket captain Sunil Gavaskar believes Cook will draw inspiration from his successful series in Australia two years ago.
"What Alastair Cook needs to do is to see how he's batted in Australia and then how he's batted in 2013.
"That way, he can find out a couple of areas he can improve on - he was maybe playing across or in front of his pads in England and therefore chasing deliveries which he wasn't doing in Australia.
"But if he gets off to a start in the first Test, gets a fluid 60 or 70 then he score another 500 runs plus this series."
You can see England's next warm-up match against Australia 'A' live from 11pm on Tuesday on Sky Sports 2 HD.