Ashes Verdict: First Test struggles concern former England batsman Marcus Trescothick
Marcus Trescothick is concerned by England's regular failings in the first Test of a series.
Last Updated: 22/11/13 9:17pm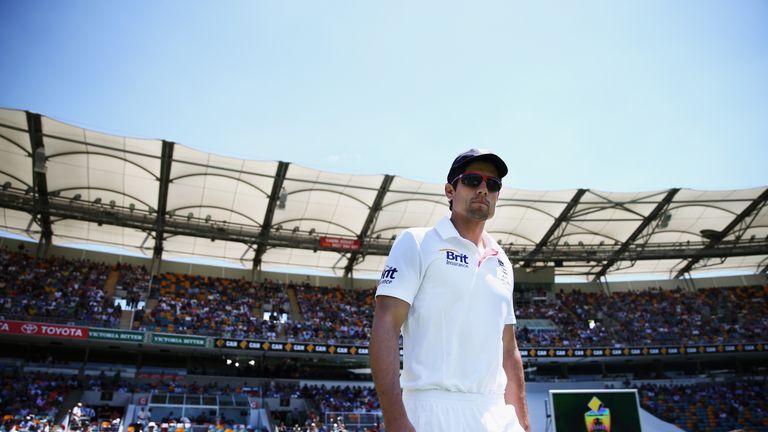 Alastair Cook's side have frequently been forced to bounce back from a slow start in recent years, and they face a familiar battle in Brisbane after a shocking second day of the Ashes.
After Stuart Broad's six-wicket haul helped restrict the hosts to 295, England crumbled to 136 all out after a horrific collapse in which they lost six wickets for just nine runs in the second session.
Former England opener Trescothick gave Sky Sports News an insight into the mood in the England dressing room and tipped Cook and coach Andy Flower to inspire a fightback.
"I think they will be pretty dejected about how they performed," said Trescothick. "It's not the first time, it's happened a few times in the first Test match of a series and the main worry is that it keeps happening.
"But they're a tight unit, they will stick together and try and bounce back. They will be thinking about their objectives for the second innings."
Broad and England's bowling attack had enjoyed an excellent first day in tough conditions, and Trescothick admitted they had every right to be critical of the batsmen for not applying themselves.
"I think they do have a right," he added. "They've worked hard in the first innings in the hottest conditions they have faced so far after three weeks in Australia.
Not ideal
"It's not ideal, but these things happen and they will try and work for each other and try and make it happen in the second innings and the second Test.
"It's inevitable that people will ask questions, the players obviously want to better, and hopefully they will do.
"I think things would have been said in the dressing room last night. A few comments would have been passed from Andy Flower and Alastair Cook would have been talking about what they did wrong and what they will try to achieve the next day.
"Maybe a few harsh words would have been said. I don't know if Cook will be throwing in hairdryers, I don't think he's quite at that stage yet, but they will be looking to put things right very quickly."
England were in a similar situation at the Gabba three years ago after another below-par first innings, but Cook's unbeaten double-century and hundreds from skipper Andrew Strauss and Jonathan Trott salvaged a comfortable draw.
Their second innings of 517-1 declared demoralised the home attack, and Trescothick said: "They have done it before, and I think it's a sign of real quality if they can do that and that set up the series last time round in Australia on this ground.
"I'm not sure if England are in the same frame of mind now as they were back then. Maybe their preparation has been a little undercooked.
"They've had a lot of rain in Australia over the last few weeks and they've not had the practice time they would have liked.
"They have not faced the quality of Mitchell Johnson and the others that are really steaming in at the moment. It's slightly different, and it's going to be tough to bounce back from where they are."