Star turns delight Strauss
Andrew Strauss thanked a series of brilliant individual performances for England's crushing win over India at Trent Bridge.
Last Updated: 02/08/11 8:01am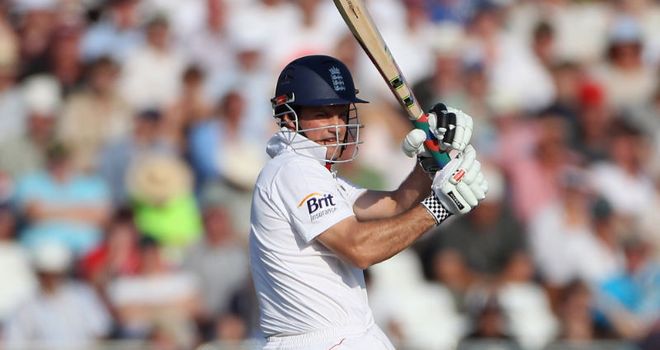 England captain Andrew Strauss thanked a series of brilliant individual performances for his side's crushing 319-run victory over India in the second Test at Trent Bridge.
Stuart Broad took a first-innings hat-trick in the process of claiming match figures of 8-76 and also contributed efforts of 64 and 44 with the bat to take the man-of-the-match award as England took a 2-0 lead in the four-match series.
Ian Bell helped the hosts turn their first-innings deficit into a huge lead as he made a fine innings of 159 after being recalled following a controversial run out.
And on day four Tim Bresnan starred in the final surge towards victory as he took a five-wicket haul and also smashed 90 runs in the second innings.
"To be 80-6 and 120-8 you're behind the eight-ball, but Broad and (Graeme) Swann have done that sort of stuff for us a few times before and it's hard for captains to set fields for," Strauss told Sky Sports.
Proud
"Then also Stuart Broad with the second new ball to get us back in the game. I'm proud of what we did this week, we've played some great cricket and come back at important times.
"(Bresnan) was unlucky not to play in the first Test and he was outstanding with bat and ball in this Test.
"He keeps putting his credentials in place and makes the (selection) decisions harder and harder. It's a good position to be in, guys keep putting their hands up and performing, and whoever misses out is going to be very unlucky."
He added of Bell: "It was an outstanding innings, to score so freely in tough conditions. He's in the form of his life, he's confident and his technique is outstanding."
India skipper Mahendra Singh Dhoni admitted that his side's star-studded batting line-up needs to up their game if they are to come away with anything from the rest of the series.
Correct
"We have to correct a few things," he said.
"The bowlers were a bit tired, their batsmen played brave shots and it paid off well for them. The bowlers tried everything but it was that day where nothing went for us.
"The bowlers are doing a very good job but we need to put more runs on the board."
Dhoni also explained his decision to recall Bell after the Warwickshire batsman was dismissed on the third day when he left his crease under the impression that the over had been completed.
He added: "When we went back to the dressing room for tea, everything was OK but inside we were not feeling right about the incident.
"It's not about the laws or the spirit of the game, you want to feel good about the day you have spent on the field."