Moises Henriques reflects on his debut for Australia against India
Moises Henriques rued his dismissal on the opening day of Australia's Test with India but was otherwise satisfied
Last Updated: 22/02/13 3:25pm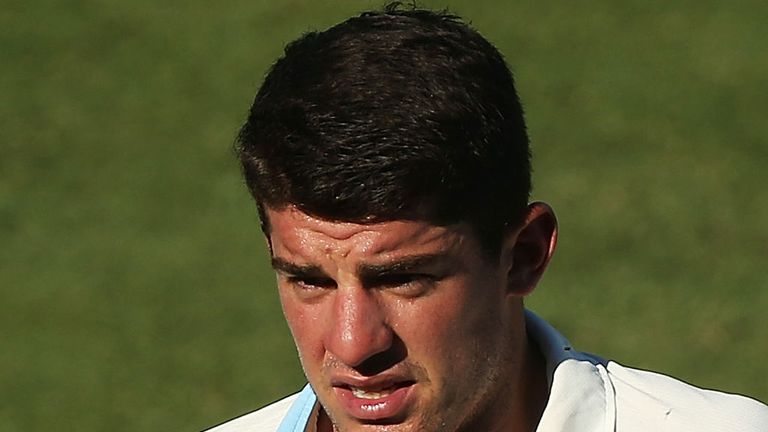 The 26-year-old struck a fine 68 in support of his skipper, Michael Clarke, as Australia recovered from 153-5 to end the day on 316-7. The pair put on 151 for the sixth wicket with Clarke smashing 103 not out.
Henriques brought up his half-century with a quick single in the 78th over. But he finally fell to Ravichandran Ashwin - who finished with 6-88 - when he missed with a sweep shot and was trapped in front
"I certainly think I had the opportunity to make it my best innings [in all cricket] but it was a little bit disappointing, I really wanted to get through the day and make sure we finished five wickets down," Henriques said.
"I could have been a little bit more ruthless at the end. But if someone said you're going to have 60-odd on debut I'd take it."
Ashwin was clearly the pick of the Indian bowlers and also had Clarke reeling, only for umpire Kumar Dharmasena failed to spot a bat-pad catch. Henriques admitted the spin of Ashwin was causing the Australia batsmen problems but expects the Australian quicks to have a big impact on the match.
"He [Ashwin] is a little bit taller and puts some really good work on the ball, the ball is fizzing and can bounce or not bounce, or spin or not spin," Henriques said. "But the other [spinners] are still really disciplined.
"It wasn't their day today but guys like Harbhajan have taken 400 Test wickets and come day three or four when the wicket is really starting to play some tricks, they're certainly going to come to the game.
"[There was] not much seam movement or anything like that but both their quicks were getting it to reverse and I think with our quicks they'll probably penetrate the wicket a little bit more than what those guys did.
"Hopefully with guys like Jimmy [Pattinson] and Peter [Siddle] and Mitch [Starc] with a little bit more airspeed, there [will be] reverse swing. The key with reverse swing is to try to bowl to new batsmen with it and be smart with your fields."