Mumbai is preparing to bid farewell to its favourite son, says SSN's Geraint Hughes
Sky Sports News' Geraint Hughes reports from India as Mumbai prepares to bid farewell to its favourite son.
Last Updated: 14/11/13 3:39pm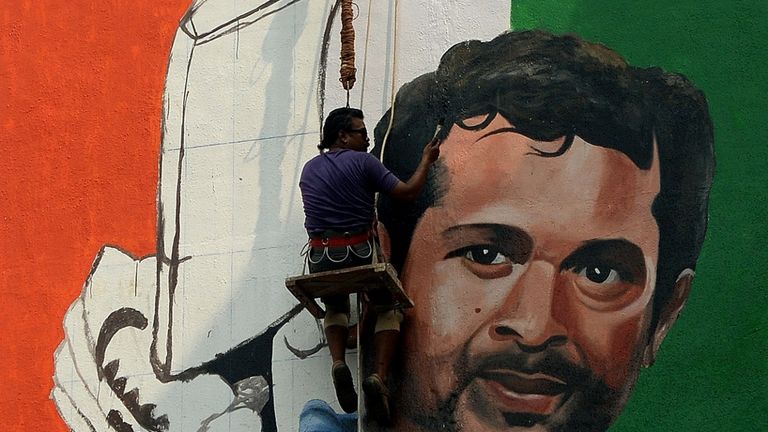 It's well known that the Indian public adore their cricketers, but none have had the effect of Sachin Tendulkar since he made his Test debut in 1989.
The Little Master is used to attention, but when he looked out of his hotel room this morning to see hundreds of fans outside straining to catch a glimpse of him just boarding a bus, he knew this was different.
At his final practice session, he played a lone centre-forward role as he and his team-mates played football to warm up. Tendulkar, I'm sad to say, may be a cricketing legend, but his football skills will not be missed!
After that he shook countless hands; everyone near him wanted a piece of him. One nice touch was to see him posing for a photograph alongside all the Mumbai Cricket Association ground staff in recognition of a long association and their work in providing him with pitches to suit his ample talent.
After that, Tendulkar did what he always does. Concentrate.
He put his on pads and helmet, carried 3 bats into the nets and remained there for an hour, facing countless deliveries from India's bowlers. Although the coming Test is essentially all about saying farewell, Tendulkar wants to succeed. He hasn't scored a Test century since January 2011 and should he do so here in Mumbai he will close in on 16,000 Test runs. He currently has 15,847, so a nice 153 in Mumbai would go down rather well!
His captain MS Dhoni, speaking at his news conference, told me that Tendulkar was the greatest player that has ever played. Why? "He's played since 1989, Test cricket has changed, ODI cricket has changed and 20/20 has come along and Tendulkar has adapted and succeeded in all forms of the game. He's also dealt with the expectation of the Indian public."
Fair enough. The debate about who is the greatest batsman of all time gets short shrift here. Bradman and Lara are good, but they're not Sachin.
His ability to score big runs maybe not as it once was, but the whole of India is hoping and praying that he has just one big innings left.