Alec Stewart pays tribute to retiring South Africa Test captain Graeme Smith
Former England captain Alec Stewart has paid tribute to South Africa's captain Graeme Smith.
Last Updated: 04/03/14 2:51pm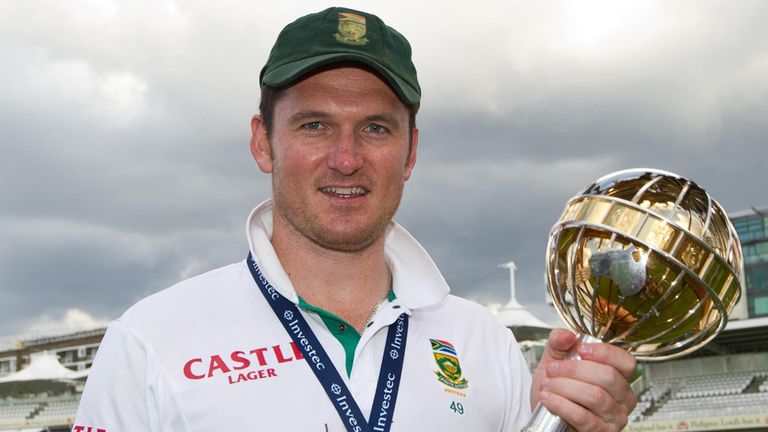 Smith will continue to captain Surrey and Stewart, who is director of cricket at the county, says he is looking forward to working with him.
"Like with all these retirements, you have to respect the decision," said Stewart. "And look back fondly on what has been a remarkable career.
"My last Test series was against South Africa (2003) and he was captain there.
"From the first time I played against him, he impressed me, not just as a batsman but as a captain and leader, and also as a human being. He was a very mature young man.
"He had a very experienced head on young shoulders and he has continued to impress me ever since.
"He is a natural leader. He leads by example, he is there to win and win well, and he's done that, he's taken South Africa to number one in the world.
"In the short time he was with us at Surrey last season, he grabbed the dressing room straight away and impressed everyone.
"It was a pity he had this ankle injury which sent him home early but we are looking forward to having him on a far more regular basis over the coming years. He will be very much a part of the Surrey future."
Smith has had some wonderful battles with England over the years and some of his former adversaries were quick to praise the opener.
Former England batsman Kevin Pietersen tweeted: "Hearing huge news out of South Africa. Graeme Smith is retiring! For what he has done for SA cricket - the man is a legend! Congrats, my Surrey BFF."
Michael Vaughan resigned the England captaincy after Smith led South Africa to a series victory in England in 2008.
And Vaughan tweeted: "Huge respect to Graeme Smith. Fantastic captain, leader, batsman, bloke and all round good egg."