NatWest T20 Blast: Andrew Flintoff's Lancashire return would be fabulous
But legendary all-rounder won't want to make comeback unless up to scratch...
Last Updated: 13/05/14 4:10pm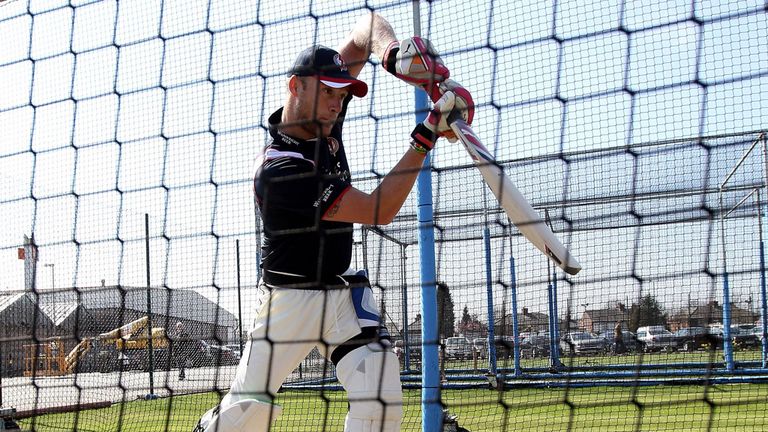 Nasser: Northants were impressive all the way through last year's competition but the highlight has to be that final performance from David Willey - the hat-trick, the brutal innings and the spat with Jade Dernbach. I enjoy a little bit of Twenty20 feistiness so long as it doesn't go over the top.
Bumble: I'm sure the reigning champions are putting a lot of eggs into their T20 basket against this year but any bloke in either division can make themselves a hero because a T20 game can turn on one performance. You naturally think that bloke will be somebody with a bat but it could be a bowler who bowls four overs for absolutely nothing and gets the opposition's best player out; that can change the game. Northants' strength is still the number of all-round power-players they've got.
Nasser: It's going to be tough for them to defend their title, but history tells you that once any team gets on a roll in this tournament they can be tough to beat. Northants selected well last season and looked far fitter than in previous years and they'll no doubt re-jig that formula. They were the surprise package but anyone who saw them play would say that they deserved to win it.
Off the pitch I have to say that Bumble's singing with the ladies choir was something else! It still makes me giggle when I see the video. Over the years we've seen him climb into the gardens of New Writtle Street at Chelmsford to retrieve the ball, have pizzas delivered to the commentary box, chill out in a jacuzzi, hurtle around the Mascot Race... I wonder what 'the looney' has got for us this year...
Bumble: My knee is still not right so I think it is time to move on from the Mascot Race. I've had a chance to examine my career and I'd like to hand the baton on to Michael Vaughan...
But the big rumble up here is about Andrew Flintoff. Will he or won't he play for Lancashire? I've tried to get in touch with Andrew this week and he's not saying much. He keeps calling Vaughan 'Norris' out of Coronation Street because he reckons Vaughan is gossip-mongering about him. But Flintoff is at Old Trafford. It might be a case of two plus two makes five, but he's definitely at the ground and he's having a hit every now and again. The rumours are he is likely to play.
I think it will be fabulous for the NatWest T20 Blast if Flintoff does play in the competition. I just hope he has a go. I know him pretty well and I don't think he'll have a do unless he's properly fit because he won't want to compromise himself because there will be no sentiment from the opposition. He won't come out in a bath-chair.
Nasser: Hopefully this year's tournament will be more competitive than ever so that every game counts in the run-up to the quarter-finals. With any luck, this new format of two groups of nine teams will ensure that sides are rewarded for victories and we don't have too many dead games at the end of the group stages. When picking a team to watch I always look out for which teams have their England players around and when their overseas players arrive - which are the strongest sides without their international players?
Nottinghamshire will lose Harry Gurney to England for T20 and ODIs against Sri Lanka - and Alex Hales for the T20 - but they still have plenty of firepower and remain a very good side, particularly if Michael Lumb is firing at the top of the order. Peter Siddle, their overseas player, hasn't got a lot of Twenty20 pedigree but he will give them an extra yard of pace. From what I've seen of him, though, he's pretty much a line and length bowler, so it will be interesting to see how he goes in T20. James Taylor and Samit Patel are both very good players, as is Chris Read.
Bumble: Mick Newell is a fantastic coach and I think his team will do an excellent job although they won't see much of Stuart Broad or Gurney, it looks like. As always there's a scramble to try and find a star player and Yorkshire have pulled off a real coup if they can get Aaron Finch to play a decent number of games. I'd expect Warwickshire (or Birmingham as I think they're called) to be there or thereabouts; the top teams in the Championship will definitely fancy this. That said, we never talk about Leicestershire and Northamptonshire in Championship cricket and Leicestershire have won it at least twice while I fancy Sussex as well - although I reckon Yasir Arafat might be older than me!
Nasser: I also see Yorkshire as a threat - they've signed well in Finch, who is one of the best T20 players in world cricket, and they have experience throughout the squad. They are also very well led by Jason Gillespie and Martyn Moxon; Joe Root is a fantastic domestic T20 player (if he plays), and they've got an array of talent in that batting order.
In the South, I like Hampshire even though Glenn Maxwell won't be around early on. He's the Twenty20 player of World Cricket at the moment; you can't argue what he's doing in the IPL, where he has taken his game to another level. Michael Carberry has been one of the best domestic Twenty20 players going in recent seasons but is back in favour with England. However, James Vince is a talent and they've got the likes of left-armer Chris Wood to bowl his variations, plus a good spinner in Danny Briggs. In short, they are a very strong side and they've got great pedigree in this competition - as have Somerset with Marcus Trescothick, Craig Kieswetter, Peter Trego and Alfonso Thomas leading the way. Dirk Nannes knows exactly how to bowl at the death while I've always found Alviro Peterson to be a very good cricketer. They are going to miss the finishing ability of Jos Buttler without a doubt but their loss is England's and Lancashire's gain. History tells you that these are the two sides that you have to beat, although Essex have signed well in Jesse Ryder - he can be a very destructive player and they are not going to lose a lot of players to England duty.
Bumble: Somerset always promise good things. They went into a bit of a decline last summer so can they bounce back? Lewis Gregory has had a really good start for them. Surrey have had a wretched start to the season - so is this a competition they can get a bit of glory from? Then again, Graeme Smith can't buy a run but then there's always Kevin Pietersen to slot back in - and we all know that he can be box office!
Watch 39 NatWest T20 Blast fixtures, including a Middlesex double header in the first weekend, live on Sky Sports this summer - starting with Friday's opening clash between Nottinghamshire Outlaws and Lancashire Lightning. For full details click here.