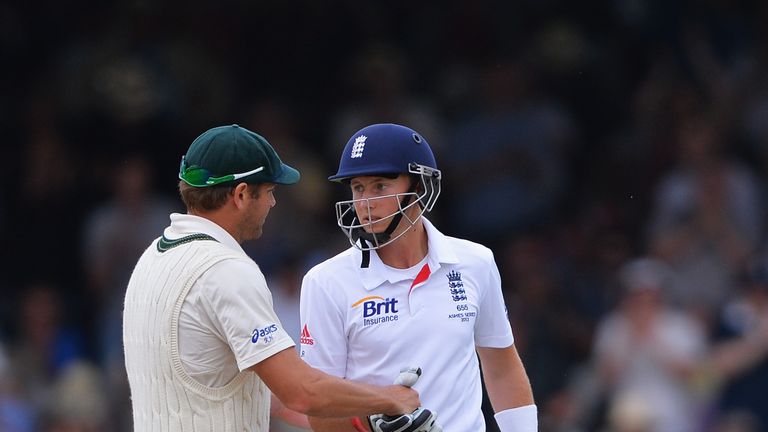 Peter Siddle's three wickets on Friday evening may have given the tourists a sniff, but Joe Root's majestic unbeaten century on Saturday put England in total command on a day the tourists will not remember with any fondness.
They managed only two wickets in 90 overs of bowling as the Yorkshire opener finished on 178 not out to guide his team into a 566-run lead and it is now extremely difficult to envisage anything other than an England victory.
We pick out some of the highlights from day three.
In the driving seat
Joe Root would have been well aware that a real opportunity to make important runs for England lay ahead of him on Saturday... and boy did he take his chance. Having failed to make a sizeable contribution since his promotion to the top of the order, the 22-year-old would have been forgiven for feeling a bit of pressure as he resumed on day three. But he showed precious few nerves as he embarked on a quite outstanding innings that looks to have cemented his future as a Test opener. Root scored runs all around the wicket and it's difficult to highlight any one shot during his knock, so for his finest strokes of the day we'll plump for a couple of sumptuous on-drives off Siddle early on that set the tone for a day he will never forget.
Encouragement for England
Taking only two wickets in 90 overs of bowling - and both of those courtesy of long-hops - illustrates the fact that Australia did not have one of their finest days in the field. Needing early wickets to have any hope of battling their way back into proceedings, there appeared to be a peculiar lack of urgency and aggression right from the off which allowed Root and nightwatchman Tim Bresnan to take the game away from the tourists during a comfortable morning session. Indeed, perhaps the most eye-catching ball of the day will only serve to further bolster England as finger-spinner Ashton Agar got one delivery to turn so sharply past Root's outside edge later in the day that it missed everything and ended in the hands of first slip. With that in mind Graeme Swann will fancy his chances of adding to his first innings five-for and bowling England to victory.
Rogers at the double
There was precious little for Australia and their fans to cheer on Saturday, but at least there can be no doubt about catch of the day honours... Chris Rogers took them both! Despite the fact they were bowled by a quickie and a spinner, both wickets fell to very similar deliveries - half-trackers that were pulled to mid-wicket. On both occasions Rogers obliged, although his effort to pouch Ian Bell was worthy of note - the Aussie opener holding on to a smart chance which came sharply off the bottom of Bell's bat with the minimum of fuss. But his subsequent lack of celebration rather told the story with the tourists by that stage over 500 runs behind and staring down the barrel.
Catching controversy
Although it was Rogers who took the catch to dismiss Bell for 74, the England batsman ought to have been on his way a long time before having edged one to Steve Smith in the gully when on only three. However, with the on-field umpire unsure whether the ball had carried cleanly, the decision was referred upstairs to the third umpire who found in the batsman's favour. It was extremely harsh on Smith who looked to have taken a perfectly legitimate catch but, as has been seen on so many occasions in the past, television replays on those close catching decisions appear only to obscure the reality and undermine the fielder's case.
London calling
While England will have savoured a day of almost total dominance with the bat, it will certainly not go down as one of the most thrilling days of Test cricket in memory - especially given the pulsating start to this series. That certainly seemed to be the view of Sky Sports pundit Michael Holding as he came to summarise day three at Lord's. Mikey must obviously think England have things in the bag as it was London's endless dining options and not cricket that was on his mind come the end of play!