What a choker
Our man Down Under Joe Drabble is set for a sleepless night after his missed putt left Sky Sports struggling on day two of the Ashes golf challenge against Royal Adelaide
Last Updated: 28/11/13 8:50am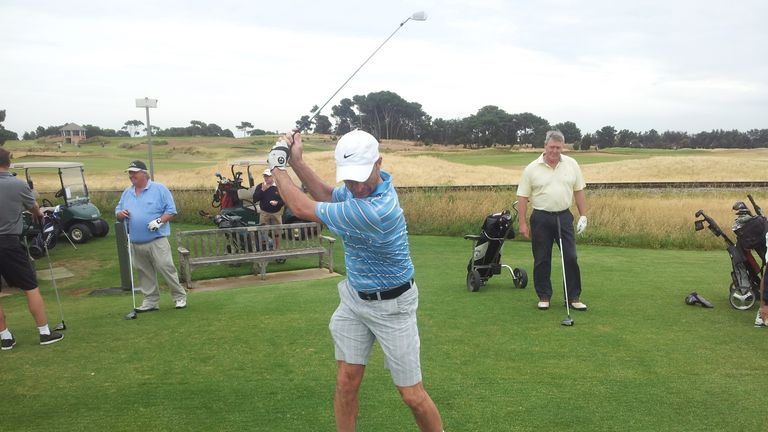 Buoyed by Bumble on day one, Nasser Hussain and Ian Ward did at least notch another full point for the side today to keep us in contention at 5.5-2.5 down heading into the final round of singles matches at Royal Adelaide Golf Club on Friday.
It could have been even tighter had I not missed a three foot putt on the last to win but hey, at least the whole clubhouse weren't watching. Oh wait, they were...
I didn't expect much sympathy when I came off the green bubbling with rage and Nasser greeted me with a 'hands around the throat' choking gesture, which was actually a pretty fair assessment!
I later discovered that some of the team had been in the 19th for quite some time, most notably Bumble, who had walked in after just 14 holes to drown his sorrows with his pair thrashed 6&4.
Bumble was our star man on day one and we sent him out first to get an early point on the board. His performance today was a crushing blow to our hopes of victory.
Privilege
Nasser and Ian Ward did at least come to the fore. Nasser's golf was widely-criticised by Michael Atherton in the pre-tour Sky Sports Ashes podcast but he showed all his battling qualities to help notch a 4&3 victory alongside the impressive Ward.
I was staggered, amazed, petrified to discover this morning that my partner and I would be taking on the club pro - Brad Moules, who, as well as holding the current course record at Royal Adelaide, is very close to qualifying onto the main European Tour.
He went round in four-under-par today and it was an absolute privilege to play alongside someone with such ability. After birdies at the first two holes I was fearing a long morning, however miraculously my partner and I pulled it back to tie.
A qualified coach, Brad was happy to offer some much-needed advice when I was spraying the ball left and right, however like any true Aussie sportsman, competition took over when the game was starting to look in the balance.
THAT putt will give me a sleepless night but at least I've contributed two halves to our cause.
We need to win six of our eight singles matches tomorrow to win the event for the first time. Iit seems a mountain to climb against our increasingly boisterous Australia opponents, but we'll keep fighting.
Make sure you listen to the latest Sky Sports Ashes podcast tomorrow, where Bumble and Nasser will give their views on the golf as well as England's chances in Adelaide.