James Anderson bowled brilliantly to put India on back foot in Nagpur, says Nasser Hussain
Nasser Hussain says seamer James Anderson bowled brilliantly to put India on the back foot in Nagpur.
Last Updated: 14/12/12 12:13pm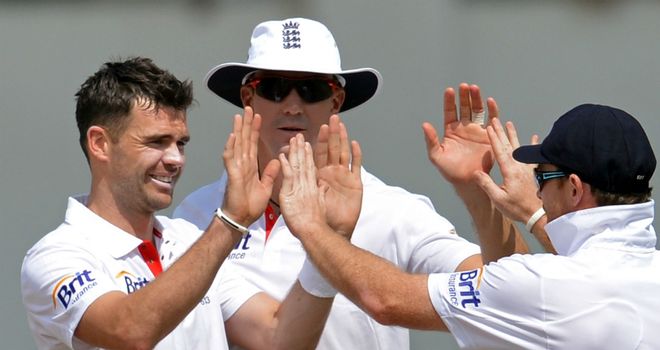 Anderson, 30, ripped through India's top order to claim figures of 3-24 and leave the home side on 87-4, 243 runs behind England's first innings score of 330 all out.
Sir Ian Botham is confident that Anderson, who now has 287 career Test wickets to his name, will surpass his own record haul of 383 Test victims if he can avoid injury.
But Botham's fellow Sky Sports pundit Hussain says that Anderson's achievements shouldn't be judged on numbers alone.
"You have to look not only at the number of wickets that someone gets but who they get out," he said. "Anderson has already got Virender Sehwag, Sachin Tendulkar and Gautam Gambhir in this innings and as a captain or a coach you'll take that every time.
"Anderson set the tone for India's innings by bowling no looseners in his first over. He bowled an inswinger second ball to Sehwag, which is brave to do if you are an outswing bowler, as Anderson predominantly is. He got it spot on and removed the middle stump; that was absolutely brilliant.
"Not only did that wicket put India on the back foot but it put the run-rate on the back foot too and since that delivery India have gone nowhere quickly."
Movement
Anderson inflicted a second demoralising blow when he castled Tendulkar (two), dismissing him for a record ninth time in Test cricket.
"Anderson had previously got Tendulkar eight times and he was lucky this time in one sense because Monty Panesar, who was bowling at the other end, has got him four times in a very short period. Panesar was all over Tendulkar for a couple of overs and looking threatening but it was Anderson who got him.
"The ball did keep a fraction low but it was the movement that did Tendulkar more than the height. It was good, reverse swing bowling; to say the wicket was just down to low bounce is doing Anderson a discredit.
"Anderson is one of these bowlers who is a little bit quicker than you think because he keeps coming at you and bowls with a trajectory that just kisses the surface.
"If you do get your position slightly wrong as a batsman you can't adjust quickly enough. If you make a fraction of an error, you're gone. The moment the ball starts reverse swinging you just don't know which way it's going."
Confident
Fellow former England captain Mike Atherton said that Anderson's success only served to highlight the fact that India, who selected Ishant Sharma (3-49) as the sole seamer in their attack, had made a fundamental error in their team selection.
"Anderson is at the peak of his powers and very confident in all conditions, especially in these ones where there is not much bounce and some reverse swing," he said.
"India misread conditions and made a mistake by only picking one seamer; the spinners have been easier to play - Piyush Chawla took four wickets but those figures flattered him greatly - while the sole fast-bowler, Ishant Sharma, has been the most dangerous."
History
England, 2-1 up, only have to avoid defeat in the fourth and final Test to win their first Test series in India in 28 years and Hussain says it's imperative that the team's batsmen don't lose focus on the task that lies in front of them should India achieve first-innings parity or better.
"England have worked so hard to get into this position and they have to make sure that they don't let themselves down in their second innings," he said.
"The batsmen should be thinking now about how they should be playing because we saw in Kolkata when England were 8-3 how difficult it can be.
"If England can bat well once more in this series, they are creating history."
Watch day three of the fourth Test between India and England from 3.55am on Saturday on Sky Sports 1 HD.
Don't miss any live and exclusive cricket coverage this festive season. Click here to visit Sky Sports' Festive Calendar.