2013 Italian GP Qualifying: Sebastian Vettel on pole after Lewis Hamilton's early exit
40th pole for World Champion as he heads another Red Bull one-two; Early exits for Lewis Hamilton and Kimi Raikkonen; Furious Fernando Alonso brands his Ferrari team "idiots" after Q3 drama
By Pete Gill
Last Updated: 07/09/13 9:05pm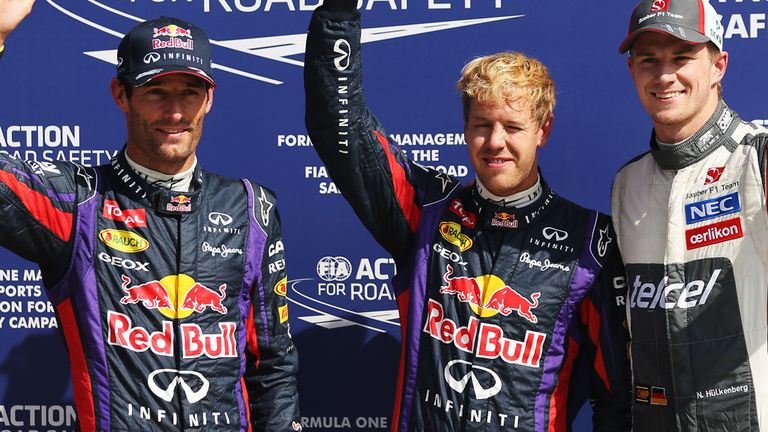 While the German romped to a pole position that looked a racing certainty after his ominous turn of speed in Friday's Practice Two, Hamilton was left to rue his broken friendship with Adrian Sutil after the Force India driver blocked his progress at the culmination of Qualifying Two. The upshot was a squeal of brakes, a subsequent grid demotion for Sutil, and instant elimination for a frustrated Hamilton. After four consecutive poles - a run stretching to over two months - the Mercedes driver will start Sunday's race from twelfth.
To his credit, Hamilton was quick to blame himself for his misfortune, describing his own driving as "idiotic" and offering an immediate apology to Mercedes, but the Monza stewards took a different view and announced late on Saturday night that Sutil would be demoted three grid places.
Hamilton and Sutil have history; after Saturday's unseemly outcome, they are unlikely to have much of a future either.
The same might also be speculated of Felipe Massa and Ferrari after the Brazilian added further unexpected drama at the conclusion of the Qualy Three shoot-out when he apparently failed to play ball by providing team-mate Fernando Alonso with an aerodynamic tow along the back straight.
"Felipe is too far," cried the Spaniard in exasperation as Ferrari's cunning plan backfired in front of an expectant Tifosi. Although the Spaniard later assured reporters afterwards that he was happy with both his result and his team, Alonso sarcastically described the Ferrari pitwall as "geniuses" as he crossed the line. The two-time World Champion later claimed his remark had been "misunderstood".
Hardly the ideal start to what is being billed as a make-or-break weekend for Ferrari in their quest to catch Red Bull in the Constructors' Championship.
While the fun and games of F1 raged around him, the unlikely figure to emerge as the star of the show was Nico Hulkenberg as the Sauber driver claimed third on the grid. The German has become something of a forgotten man in recent weeks with speculation intensifying that Kimi Raikkonen is being lined up to replace Massa at Ferrari, but his outstanding effort will surely serve to remind the Scuderia of his candidature.
Raikkonen, meanwhile, was another high-profile early departee from Qualy Two as Lotus' qualifying struggles continued with both the Finn and team-mate Romain Grosjean failing to reach the top ten.
Into the breach stepped Hulkenberg and the two Toro Rossos of Jean-Eric Vergne and Daniel Ricciardo with the Australian subsequently delivering emphatic vindication of Red Bull's decision to appoint him Webber's successor by out-qualifying the two McLarens of Jenson Button and Sergio Perez to claim a highly creditable seventh. The youngster's CV might lack points and podiums, but he certainly possesses plenty of pace.
Yet the day ultimately belonged to Ricciardio's future team-mate as Vettel cruised to his 40th career pole. Despite his imminent retirement for a new life in Sportscar racing, Webber continues to provide honest toil alongside Vettel, but the fact of the matter is that Vettel currently holds a 12-0 advantage over his team-mate in qualifying this season.
"Today and this weekend the car has been great, better than we could expect," Vettel reflected with understandable satisfaction. "We had great pace yesterday and took that into today. I had two good runs at the end, so I think in the end it is a bit of a surprise to have both cars on the front row in a place where historically we have had bad years, so this year it seems to have gone well and hopefully we can have a good race."
Who can stop him winning on Sunday? Hamilton and co will hope that forecasts of thundery downpour will prove prescient, but you rather suspect that, come rain or shine, there will be no stopping Vettel while his title rivals seek to separate friend from foe.
PG