Fernando Alonso admits winning this year's title is 'nearly impossible'
Ferrari ace also suggests that Raikkonen is no faster than Massa
By Mike Wise at Suzuka
Last Updated: 10/10/13 6:20pm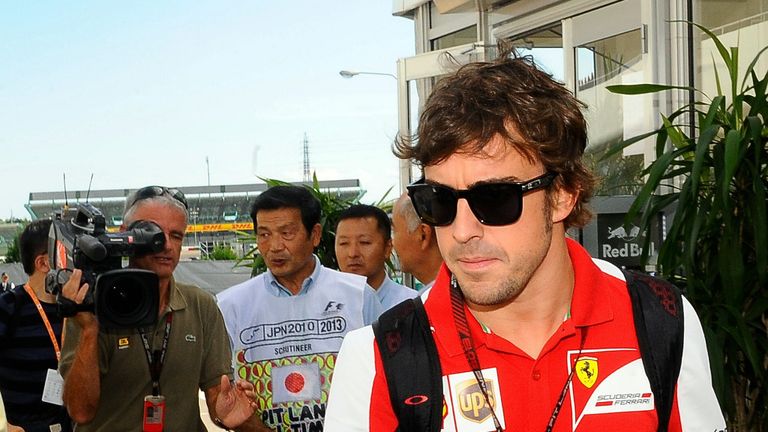 Speaking ahead of the Japanese Grand Prix on Thursday, the Spaniard admitted that it is now "nearly impossible" for him to beat Sebastian Vettel. The defending Champion currently holds a 77-point lead and will wrap up his fourth straight title this weekend if he wins and Alonso finishes outside the top eight.
When asked about next season, however, Alonso pointed out Raikkonen's record when he partnered Massa during his first stint with the Scuderia.
The Finn won the 2007 World Championship for the Maranello marque but it was Massa who arguably held the upper hand thereafter, with the Brazilian almost winning the title himself the following year.
"In the remaining races we'll try and do our best, try to score as many points as possible. The Drivers' Championship is nearly impossible, so we will try to enjoy the races, try to attack all the time and fight for the Constructors' Championship," Alonso said.
"There are very few points between us and Mercedes, so we need to keep pushing on that and try to get second. Also, Lotus recovered some points in Korea so we need to score, Felipe and me, as many points as possible in the remaining races.
"For next year, with Kimi we can do a very good Championship for Ferrari, to try and score as many points as possible. But I think, in terms of speed, Felipe's not any slower; when they were racing together, Felipe was as quick as Kimi in a way. So if we have a competitive car, we will enjoy the season and do very good things. If we don't have a competitive car, it will be very similar to this season I think."
Alonso also took aim once more at the high rate of tyre wear currently seen in Formula 1. His criticism of Pirelli in Korea last week led the Italian tyre company's Motorsport Director, Paul Hembery, to compare him unfavourably to Vettel before later issuing an apology.
However, the blow-out suffered by McLaren's Sergio Perez after he had flat-spotted a tyre during the race at Yeongam has handed Alonso further ammunition.
"I think it's the new Formula 1. Unfortunately, it's what we're getting used to. In Korea, there was a two-metre racing line with all the marbles. Unfortunately, we are getting used to this but this was not the Formula 1 four years ago. We cannot push any lap of the grands prix; this was not four years ago. But this is something that is the same for everybody and this is something we cannot do anything (about)," he said.
"Before Hembery says anything, it's a problem of us. Ferrari decided to adapt to the tyres and make them last and try to push hard every lap in the race with making the tyres last. Because it's the same for everyone, so it's our problem.
"What is not our problem is when someone has a puncture, like we saw at Silverstone; when we have five changes in one year in compounds and in constructions; and when it's Perez five days ago having a tyre explosion again.
"After 20 laps, if you have one lock-up and you have one tyre explosion, there is not something going in the right direction. This is a fact.
"It's what we don't want to see for next year, so we need to improve that quality."