Night-time schedule confirmed for 2014 Bahrain GP as race marks tenth anniversary
Exclusive Sky Sports F1 race joins Singapore in running under lights
By James Galloway
Last Updated: 22/01/14 4:55pm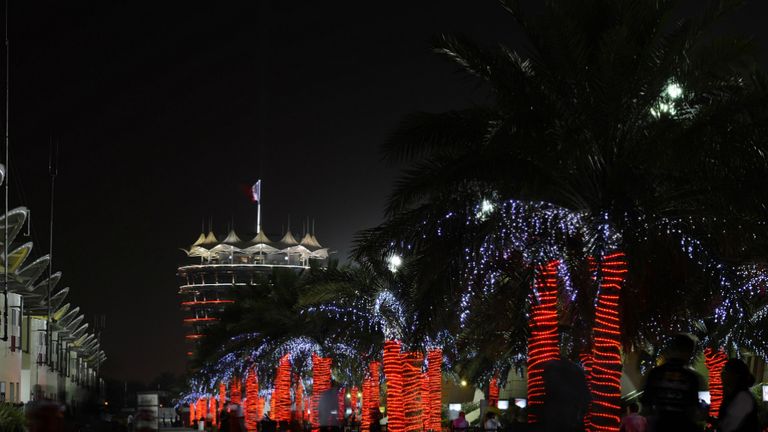 Having decided to mark the Sakhir circuit's tenth anniversary in Formula 1 by converting the April 6 race into the calendar's second full night-time event, organisers erected a lighting system around the 5.4km track which was trialled during the World Endurance Championship race held there last November.
The session start times for the forthcoming 19-race F1 season have now duly been confirmed with Bahrain to stage both qualifying and the race under lights from 6pm local time, which is 4pm BST.
Friday's Practice One session will begin at 2pm local, with Practice Two from 6pm, while Practice Three will start at 3pm on the Saturday.
Bahrain therefore joins Singapore, which made history by running an F1 race under floodlights for the first time in 2008, in staging a full night race this year. Both events will be broadcast live only on Sky Sports F1 this year.
Abu Dhabi, which hosts 2014's double points season finale, has been a 'twilight' event since joining the calendar five years ago, with the race starting in daylight and finishing under artificial lights.
The lighting infrastructure installed around Bahrain's Sakhir facility is typically expansive in nature with the system comprising 495 lighting poles, ranging in height from 10m to 45m, 4500 light fittings and over 500km of cabling.
"This is by far the biggest development project we have ever undertaken at the BIC since the circuit was first built," said Sheikh Salman bin Isa Al-Khalifa, Chief Executive of the Bahrain International Circuit.
"I believe that there can be no better way for us to mark our tenth anniversary in F1 by demonstrating our long term commitment to the sport through this significant investment, cementing our place as the home of motorsport in the Middle East."
The 2014 Bahrain GP takes place on April 4-6 and is one of ten races to be shown exclusively live on Sky F1 during the season.
2014 race calendar & Sky Sports F1 schedule
March 16: Australia - Exclusively live.
March 30: Malaysia - Live.
April 6: Bahrain - Exclusively live.
April 20: China - Exclusively live.
May 11: Spain - Live.
May 25: Monaco - Exclusively live.
June 8: Canada - Live.
June 22: Austria - Exclusively live.
July 6: Great Britain - Live.
July 20: Germany - Exclusively live.
July 27: Hungary - Exclusively live.
August 24: Belgium - Live.
September 7: Italy - Live.
September 21: Singapore - Exclusively live.
October 5: Japan - Live.
October 12: Russia - Live.
November 2: USA - Exclusively live.
November 9: Brazil - Exclusively live
November 23: Abu Dhabi - Live.
The Sky Sports F1 Online team will be providing live commentary of all three winter tests, starting in Jerez on Tuesday January 28, with live updates from trackside also on Sky Sports News