Ricciardo insists no panic at Red Bull as Adrian Newey goes 'back to drawing board'
Australian limited to just three laps of running on his debut at Jerez
By Pete Gill at Jerez
Last Updated: 31/01/14 7:56am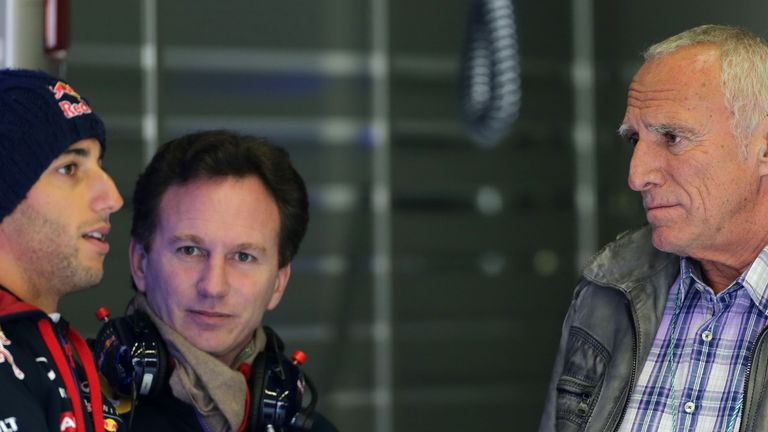 After Sebastian Vettel completed a mere eleven laps during his two days in Jerez, the World Champion's team-mate suffered the indignity of breaking down on his maiden lap for the team as the RB10 - described by team boss Christian Horner as "the most complicated car in the history of Formula 1" - once again failed to deliver any significant time on the track.
Although all of the Renault-powered runners are lagging for mileage compared to the Mercedes and Ferrari-supported challengers, the problems with the RB10 are so profound that both Horner and Technical Director Adrian Newey have returned to the team's base in search of an urgent remedy.
Unfortunately for Ricciardo and Red Bull, it seems a quick fix isn't in the offing.
"Adrian has gone back to the drawing board because there's nothing more they can do at the track. I think he is pretty happy working in his office back at Milton Keynes and he'll definitely be getting involved in trying to sort this out as soon as possible," confirmed Ricciardo.
However, with Ricciardo waylaid by a 'similar problem' to the one which proved Vettel's undoing, even after the team worked through the night trying to find a solution, the likelihood is that they will struggle to complete many laps on Friday and fall further behind in the critical reliability stakes.
"They assume it is something that will have to be sorted out at the factory but at the same time they are trying to get a quicker fix for tomorrow," said the Aussie. "They've worked nearly 36 hours on the car to get it running.
"Hopefully tomorrow we will get significantly more done but I think the break before Bahrain is going to help the team a lot. Even if tomorrow doesn't go to plan, we still won't be worried. Bahrain will sort itself out for us. We have two weeks there which is good. But we're definitely not getting worried.
"Time is still on our side. Even if we go to Melbourne with whatever, it's a long season. These guys know how to win and I'm sure we'll sort it out."
With his seemingly-permanent smile still in place, Ricciardo also sought to draw encouragement from the fact that so few laps had been registered by the Renault power unit compared to its rivals.
"It's proof that once it does get underway, it will happen for all of us and everything will fast-track," he vowed.
If Red Bull are to record a fifth successive title double in 2014, it needs to - and quickly.
Laps completed so far at Jerez:
Mercedes - 177 laps.
Ferrari - 136 laps.
McLaren - 135 laps.
Red Bull - 14 laps.
The Sky Sports F1 Online team will be providing live commentary of all three winter tests, with live updates from trackside also on Sky Sports News.