Mercedes are ahead after the 2014 Jerez test, reckons Sauber's Adrian Sutil
German driver, meanwhile, expecting big changes to his C33
By James Galloway
Last Updated: 03/02/14 11:14am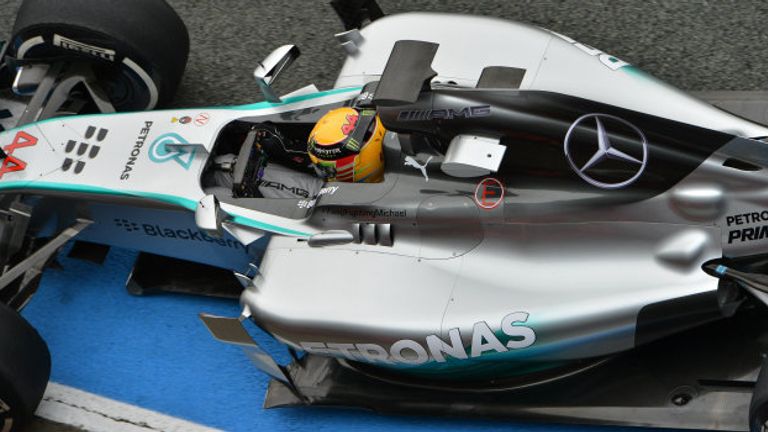 Already many pundits' tip for success in the first year of the sport's new turbo regulation era, Mercedes impressively recovered from a Day One front-wing failure in southern Spain to both comfortably top the end-of-week mileage charts - the 309 laps they put on the W05 nearly 300 more than World Champions Red Bull managed with the troubled Renault-powered RB10 - and complete the first race distance of the winter.
And having observed the German manufacturer's progress from further along the pitlane, new Sauber recruit Sutil, although keen to stress that the outright pace of the field was still unclear, was still impressed with what he saw at Mercedes.
"For me it's too early to say who is quick," he replied when asked by Sky Sports News what had caught his eye elsewhere on the grid at Jerez.
"I think the Mercedes package looks quite strong. They do a lot of laps and I have a feeling they are in the front right now. But let's see."
Assessing his own team's week of testing, however, and Sutil admitted Sauber had plenty of work to do after arriving at the first test with what essentially amounted to a basic rollout version of the C33.
The 31-year-old twice spun out during his two days in the car and admitted that the car's launch-spec had proved difficult to drive.
"Our approach was probably different to other teams here. It was more like a rollout, I wasn't really driving on the limit because it was too early for that," Sutil explained.
"The car is still not consistent enough to really tweak it to the limit. The lack of downforce is also very tricky to drive, the conditions were not great. We didn't want to take any risk and we had no [spare] parts here so it was most important to keep the car in one piece and it kind of worked.
"So we finished the whole four days and now a lot of data to study."
Teams now have two weeks to fine-tune their cars for the back-to-back tests in Bahrain and Sutil said Sauber had a sizeable aerodynamic update planned.
"Especially for us from here going to Bahrain it will be a huge step to the front," the German added.
"Here we were just limited to what we could do but I expect a lot of changes and hopefully good changes for the first part of the season. It will be quite a strong development curve I think, especially thinking about the new rules. That should be normal."
The former Force India driver added that his first impressions of engine supplier Ferrari's V6 power unit had been positive after Sauber completed the fifth-highest amount of mileage at Jerez.
"Engine-wise I think we're quite comfortable with the Ferrari package, they did a good job," he added.
"So we have to our car and driveability, especially the aerodynamics."
Total laps completed by each team at Jerez
Mercedes - 309.
Ferrari - 251.
McLaren - 245.
Williams - 175.
Sauber - 163.
Force India - 146.
Caterham - 76.
Toro Rosso - 54.
Marussia - 30.
Red Bull - 21.
Laps completed by each engine manufacturer
Mercedes - 875.
Ferrari - 444.
Renault - 151.
The Sky Sports F1 Online team will be providing live commentary of all three winter tests, with live updates from trackside also on Sky Sports News.