Renault 'still behind schedule' but confident of more sustained running at Bahrain test
Hardware and software fixes in place after Jerez woes
By James Galloway
Last Updated: 14/02/14 1:51pm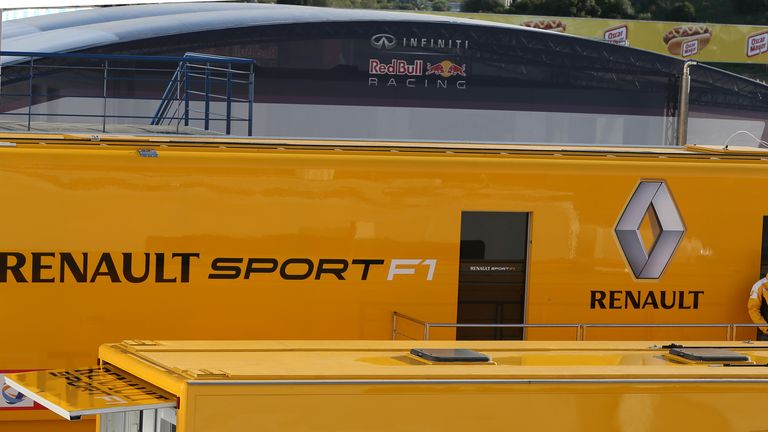 The French manufacturer endured a nightmare start to F1's new era of turbo power at the opening test of 2014 at Jerez two weeks' ago when their customer teams, which include World Champions Red Bull, completed just 151 laps in total - over 700 fewer than the Mercedes-powered outfits.
With the problems caused by both hardware and software bugs in their power unit systems, Renault have used the break between tests to work on fixes back at their French base - and earlier this week reported that the first of those had run reliably in Lotus's 100km promotional filming test with the E22 at Jerez last week.
Nonetheless, with engine rivals Mercedes and Ferrari already having expressed satisfaction with the debuts of their respective power units in Spain, speculation has centered on how far behind the Renault teams now are and how long it will take the French firm to overcome their problems.
But while admitting that they are still probably several weeks behind schedule, Renault have insisted their predicament is not as disastrous as has been suggested in some quarters.
"We're still behind schedule, but it's not a question of months," said Remi Taffin, Renault Sport F1's Head of Track Operations.
"We are at least where we would have sought to be for the first test, so maybe now we are three weeks behind, and now we are on a recovery plan.
"We're now going to go into Bahrain with what we would have liked to have finished the first test with.
"As for our rivals, let's put it this way, they are probably four days ahead of us as they had a proper test in Jerez, and we didn't."
Renault confirmed earlier this week that the power unit used for Lotus's filming day at Jerez featured minor hardware changes, software bug fixes and calibration improvements after they experienced repeated system control issues at the previous group test.
Taffin is confident their four customers will experience much-improved reliability when the Bahrain test gets underway on Wednesday 19 February and can complete the checks they had originally planned for Jerez.
"With regard to the hardware we are now confident the problem we had in the first test has been solved and we will be in a position to go out in Bahrain without all these issues," the Frenchman explained.
"As for the software we've improved our level. We're still behind our initial schedule, but now beyond what we would have done in the first test.
"Again we should be okay in Bahrain to go out on the first day with a car that should be working.
"We are ready to do what we would have liked to have done in the first test, which is to properly test the power unit and give our customers a way to discover their cars."
He added: "If the work we have done recently is okay, which we think it is, then we should see the difference in Bahrain, with cars out on track, which will mean we have solved the problem."
Laps completed by each engine manufacturer at Jerez
Mercedes - 875.
Ferrari - 444.
Renault - 151.
The Sky Sports F1 Online team will be providing live commentary of all three winter tests with live updates from trackside also on Sky Sports News. The next test, in Bahrain, begins on Wednesday February 19.