Sergio Perez says drivers raised new Turn Four kerb in Friday briefing in Bahrain
Mexican also says Rosberg swerve 'dangerous' but reprimand enough
By James Galloway
Last Updated: 04/04/14 10:16pm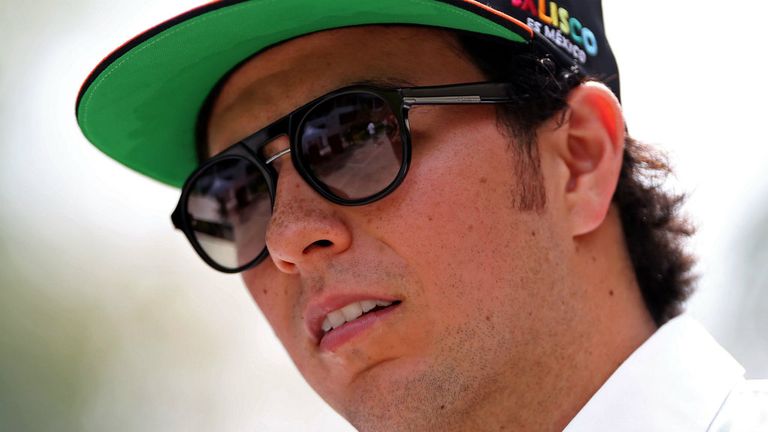 Ferrari's Kimi Raikkonen and Lotus's Pastor Maldonado both experienced spectacular moments on the exit of the corner after running wide during the course of Friday's running, with both cars sustaining floor damage. In the past drivers battling for position could run across the kerb and the sand without penalty in a bid to overtake into Turn Five.
Analysing Maldonado's incident on the SkyPad during The F1 Show Force India special, Perez told Anthony Davidson that the drivers had brought up the problem kerb in their regular Friday night briefing.
"All the drivers disagree [with the change] on this one," Perez said. "That one is a really big hit for the car, big hit for the driver and spine. So it's definitely a mistake.
"We talked about it in the drivers' briefing. It's very easy, what I did to Fernando, what Jenson did to me last year, it's very easy [to run wide] because the corner takes you that way. Hopefully on Sunday we don't see an accident like this for the good of the cars and the good of the show."
Although visually not as dramatic, Perez was involved in a practice incident of his own when was forced to swerve to avoid Nico Rosberg's slow-moving Mercedes on the run to the final corner as the German suddenly moved in the direction he was going.
Rosberg was later reprimanded by the stewards after they adjudged he had "slowed unnecessarily and recklessly in front of car 11 between Turns 13 and 14". Although Perez accepted the Mercedes driver simply hadn't been aware of his oncoming car, it had nonetheless been a 'dangerous' moment.
"Of course Nico didn't try anything stupid, but it was just he had a lack of concentration I think," Perez said.
"All of us have done that mistake but it was really dangerous. I was looking at him when I exited the corner before and I was coming along the straight and he was really going slow, so I thought he was going to keep the line. In the very last moment he moved out of the way but I was just so much faster than him. It was a difficult moment.
Asked if he agreed a reprimand was a sufficient sanction, Perez replied: "It was really dangerous, but I think because of the circumstances and, of course, it's a mistake that all of us can do, I think it was a good decision from the stewards."
That incident aside, Perez enjoyed arguably his strongest start to a race weekend yet this season after he finished Practice Two in tenth place and ahead of in-form team-mate Nico Hulkenberg.
Perez failed to start the start of last Sunday's race in Malaysia owing to gearbox problems but is hopeful his form on Friday here bodes well for a more memorable Bahrain.
"At least it was running, so that's positive!" the former McLaren driver joked.
"It was a good day in terms of work. We managed to do a lot of laps - 40 laps in P2 - so very good and the weekend is looking promising.
"Hopefully we can have a good qualifying and then in the race I think we can be a bit stronger than in qualifying."