Daniil Kvyat three points away from F1 race ban after Carlos Sainz clash
Kvyat moves onto nine penalty points after Sainz collision
By James Galloway and Matt Morlidge
Last Updated: 01/08/17 9:31pm
Daniil Kvyat has moved to within three points of an F1 race ban after being found at fault for another first-lap accident at the British GP - this time with Toro Rosso team-mate Carlos Sainz.
A week after having two points placed on his licence for hitting Fernando Alonso at the first corner in Austria, Kvyat was handed two more points after Silverstone stewards found him at fault for colliding with Sainz.
That takes Kvyat up to nine for the last 12-month period, the most in the field, and just three away from triggering an automatic one-race suspension.
He will remain with at least nine points on his licence until the day after the United States GP on October 23, when the two points he received in Austin last year will be wiped.
The Toro Rossos were battling for position at the start but Kvyat ran wide before rejoining the track, making contact with the sister Toro Rosso as he looked to find a way past.
Both STR12's span off the road with Kevin Magnussen also sustaining damage on his Haas, but while Sainz was forced to retire, Kvyat was able to continue - albeit at the back of the field.
The collision caused an early Safety Car, but unsurprisingly both young drivers blamed each other. Kvyat was handed a drive-through penalty for 'rejoining the track unsafely' and eventually finished a lapped 15th.
"It's very clear on the cameras what happened, we were both battling for position and giving each other space and then one car loses control and collides with another," Sainz told Sky F1.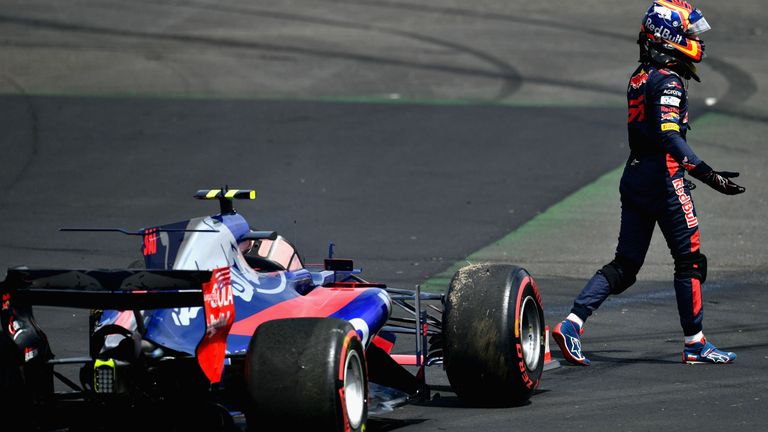 "Not good for the team - but it's a discussion and analysis that needs to stay between us. When there is situations out of control it's not like I'm going to be tense about it, I'm relaxed. We need to keep our head up."
Sky F1's Pat Symonds said of the crash: "I think the incident itself is inexcusable but the penalty bemused me, because rejoining the track - Kvyat was a passenger."
"Carlos is a guy with a great future in front of him, Daniil - I'm not so sure. He's not a rookie, he should be driving better than that."
Watch the full clip by clicking play on the video above.
Kvyat on crash with Sainz
"The racing driver knows when he sees what happens to me that you're never going to be on the perfect line for Turn 12. So when you put yourself there, you know the collision is 90 per cent unavoidable.
"I believe had the other car been anticipating it, it would have been trying to get me back on the next straight. But it didn't happen. You just put yourself there and say to your teammate 'OK, you just crash into me'.
"That's what I believe happened, and I completely disagree with the penalty. Yes, of course the responsibility is on me also, but I think we both should be feeling responsible for what happened.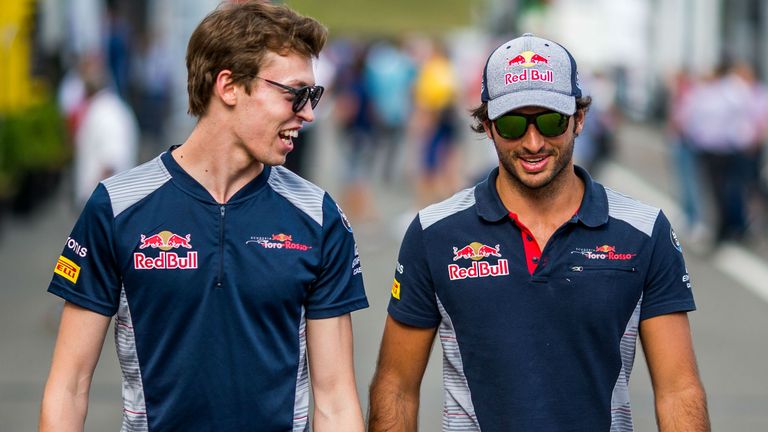 "I think when he pushed me off the track in the first four races, nobody told him anything. I believe he should keep his distance from me on lap one in general. That's best for the team. I feel more, not for Carlos at all, but for the team it was a shame.
"[The relationship with Carlos] has never been fantastic. I don't expect anything to change so we just carry on."
Comment below to get involved in the debate, but please adhere to our House Rules. If you wish to report any comment, simply click on the down arrow next to the offending comment and click 'Report'.