Daniil Kvyat cut a relaxed figure in the Albert Park paddock ahead of his F1 debut
Russian teenager feels "quite confident" despite testing woes
By Mike Wise in Melbourne
Last Updated: 13/03/14 11:03am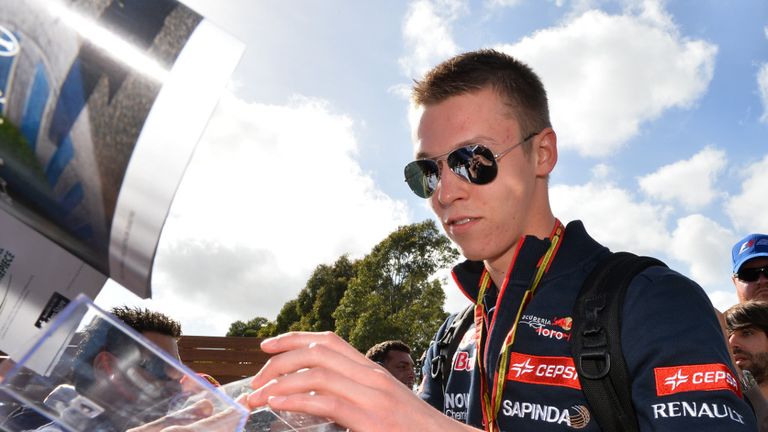 Problems the Italian team have encountered with Renault's new power unit have left the Russian lacking valuable mileage in comparison to fellow rookies Kevin Magnussen and Marcus Ericsson.
Ericsson's team Caterham might also be Renault-powered but the Swede has still racked up more laps than Kvyat, while Magnussen's preparations with McLaren appear to place him far ahead of both.
Yet if the 19-year-old is feeling any nerves ahead of his debut then his demeanour in the Albert Park paddock didn't betray them.
"I feel calm, relaxed, no rush," last year's GP3 champion said. "Excited too but nothing special. I'm quite excited to go racing again, hopefully we keep improving all the time, that's all we have to do."
Like the cars of Red Bull and Lotus, Toro Rosso's STR9 has seemingly spent as much time in the garage as it has on track this winter, although their situation appeared to improve at the last test in Bahrain.
But there's still clearly much work to be done, starting with Friday practice. "I think the electronic guys at Renault have been doing a lot of work and like I said, tomorrow [Friday Practice] will be quite an important day - I think for everybody, of course - to understand where we are," said Kvyat, who took part in two practice sessions for the team late last year.
"Of course, we didn't have the smoothest testing ever. We don't know everything and we still have to try some things tomorrow, but I think many teams have to do it as well.
"We'll do our job. If we complete our job list, I think we'll be in a good position."
Although not where he would like to be given Toro Rosso's travails - Kvyat admitted that understanding the racecraft associated with saving fuel remains very much a grey area - the youngster still feels "quite confident about everything".
"It's quite a clear picture in my mind so far, with my engineers we've been working hard and are already thinking about detailed things; we are pretty much done with the general stuff," Kvyat added.
"If we had more running, we would be on the very small details. But I don't think I'm lacking anything big for now."