Max Verstappen says he couldn't turn down the opportunity to make the leap to F1
Dutchman currently in first season of single-seater reason; Max will be 17 when he makes his F1 debut as the youngest driver in F1 history
Last Updated: 18/09/14 9:27am
Max Verstappen says he simply couldn't turn down the offer of a Formula 1 seat due to the limited opportunities on offer to drivers.
The 16-year-old only graduated from karting this season, but after impressing in European F3 he was promoted to replace Jean-Eric Vergne at Toro Rosso next season.
Some pundits and ex-drivers have questioned whether the Dutchman is ready for the pinnacle of motorsport, suggesting he would be better served by another season in a junior formula such as GP2, but Verstappen says you cannot say no to F1.
"When you get a chance in F1 you have to take it – how many chances do you get? These days you don't get too many," he told Sky Sports F1.
Verstappen had been heavily linked with Mercedes after being spotted in their garage at the German GP, but Dutch driver revealed Red Bull have been following him for four years.
"We had some talks with Mercedes, I have to say it was good, some nice talks with Toto [Wolff] and also Niki [Lauda], but also we had had contact with Red Bull since 2010," he added.
"Then since I was in F3 and did a good job there we were talking more serious and about F1 in the end. And at the end I chose Red Bull, because I had the right feeling and I got an F1 drive."
With both race seats at Mercedes blocked by Lewis Hamilton and Nico Rosberg, Verstappen admits that played a part in his decision to accept the Red Bull offer.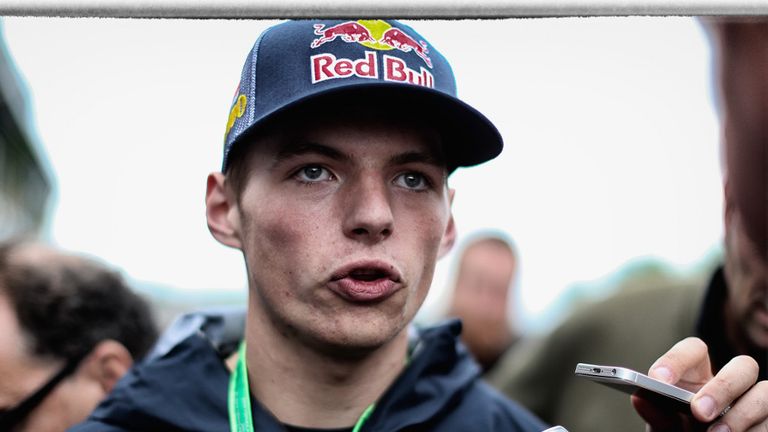 "For sure it helps if you have an offer like that," he confessed. "At the end if you look at GP2 at the moment it is a hard class, a lot of drivers are in there for four years or five years and have a lot of experience, so if you do a good job in F3 and jump into GP2, look at [Raffaele] Marciello he is having a hard time and it can be over quickly."
Next season Verstappen is likely to go from regularly winning races to battling just to be in the points with Toro Rosso, but he thinks it is better to enter F1 with a midfield team in the same way his father Jos did with Benetton in 1994.
"You have to set up your mind for that and I am prepared for that as I think it is better to start like that than how my dad did it," he said.
Next for the 16-year-old will be the task of obtaining a super licence which will allow him to take part in some Practice One sessions towards the end of the F1 season, similar to what Daniil Kvyat did last year.
"We are planning to do some, we are not sure which ones, but we are planning to do some," Verstappen said.
"We are sorting out a lot of things at the moment as the last few weeks have been really busy. We are sorting a date to start driving an old F1 car to get the super licence and from there on we are just looking to see what Fridays I can do."