Christian Horner hints at a two-way fight to replace Mark Webber at Red Bull in 2014
Red Bull drop Webber from Young Driver Test schedule
By Pete Gill
Last Updated: 17/07/13 4:12pm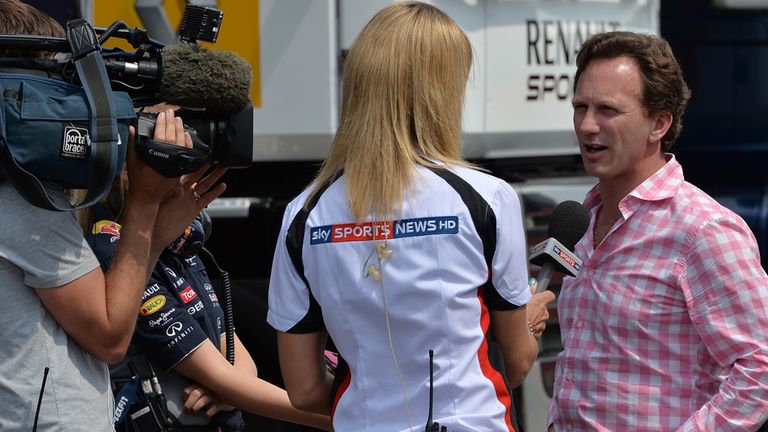 Although Raikkonen has been installed as the odds-on favourite to partner Sebastian Vettel next season, Ricciardo has been presented with a golden opportunity to stake his claim on Day Two of the Young Driver Test when he'll drive the RB9 for the first time.
Red Bull are so keen to take a close look at the youngster that they have dropped Webber from their previously-announced schedule after determining that it would have been "impossible" to run the veteran as well as Vettel and Ricciardo at Silverstone.
"We're very keen to have a look at Daniel as a prospect for next year," Horner confirmed to Sky Sports News. "Obviously there is a great deal of interest in the seat, but it's an opportunity to have a look at Daniel and for him to do some of our tyre-testing work in our RBR car. It's a great opportunity for him."
Horner has previously identified Jean-Eric Vergne, Ricciardo and Raikkonen as the three candidates to replace the Porsche-bound Webber. But asked point-blank whether the battle for succession was now a straight fight between Raikkonen and Ricciardo, Horner acknowledged: "Essentially, probably."
Along with his current Toro Rosso team-mate Vergne, Ricciardo has struggled for points over the last two seasons. Yet Horner suggested that the talent of both drivers had been disguised by the shortcomings of their Toro Rosso machinery.
"You have to look at what these drivers have at their disposal and for sure both Jean-Eric and Daniel are very quick drivers, and we have an opportunity to take a closer look at Daniel which is why we have chosen to exercise that and get him in the car tomorrow," he remarked.
Although the prospect of Ricciardo replacing countryman Webber in a Red Bull next season has gathered pace in recent weeks, former title winner Raikkonen still remains the favourite to join the team at the end of the year when his contract with Lotus expires.
"Kimi's track record speaks for itself and he's a championship contender as we speak. We're in a fortunate position in that not only are we attracting fantastic drivers like Kimi but we've also got the opportunity to look at the drivers we have been nurturing in the likes of Daniel," added Horner.
"We get paid based on where we are in the Constructors' Championship so therefore we want the fastest and best drivers we can get in the car. We'll take our time to make sure that whoever fills Mark's shoes - and they are big shoes to fill - is the right choice for the team."
While all eyes will be on Ricciardo when he runs in the Red Bull on Thursday afternoon, Lotus have announced that Raikkonen has been dropped from their schedule after deciding that they would gain more from a non-race driver evaluating new parts on the E21 than using the Finn to test the new tyres Pirelli intend to introduce in Hungary.
Red Bull's updated Young Driver Test schedule:
Wednesday 17 July - Antonio Felix Da Costa.
Thursday 18 July - Morning: Antonio Felix Da Costa; Afternoon: Daniel Ricciardo
Friday 19 July - Morning: Carlos Sainz Jr; Afternoon: Sebastian Vettel