Dietrich Mateschitz says 'clear lines of acceptance' from Red Bull on aspects of F1
Billionaire also says Red Bull will prove case over disqualification
By Sky Sports Online
Last Updated: 26/03/14 1:40pm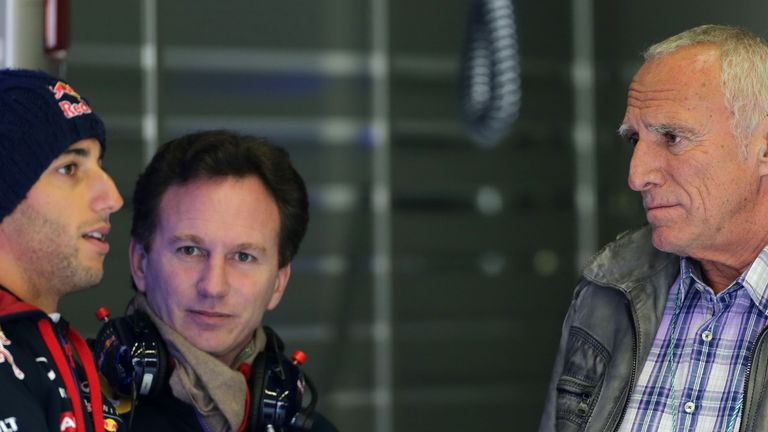 The Milton Keynes outfit, who are currently contesting Daniel Ricciardo's disqualification from the Australian GP, are celebrating their tenth year as a team owner having over the last four seasons completed a clean sweep of World Championship honours.
Before buying the then Jaguar team Red Bull were a long-time sponsor of Sauber, while they currently also own the Italy-based Toro Rosso oufit.
But speaking to a newspaper in the company's Austrian homeland, co-owner Mateschitz made clear their F1 participation was not unconditional.
"The question is not if it is economically worth it. It would rather be reasons like fairness in the sport, political influences etc," Mateschitz told Kurier.
"Those things happened in the past before (in the sport) and there is a clear line of acceptance from our side regarding this."
Red Bull are currently at the centre of an early-season controversy after Daniel Ricciardo was stripped of second place in Melbourne after stewards ruled his RB10 had 'consistently' contravened the new-for-2014 fuel flow regulations
In response to a question asking if the 'clear line' he referred to had been overstepped by the sport's new rules and the team's Melbourne expulsion, Mateschitz chose not to answer directly, instead replying that Red Bull's own fuel flow data showed they had run within the 100kg/h parameters.
"The team lodged the appeal. Fact is that the fuel-flow sensor from the FIA showed different data since the beginning, and is therefore not exact," the Austrian billionaire added.
"We can proof the exact amount of flow from our side instead and this amount was within the regulations."
Mateschitz was also criticial of the fact that F1, thanks to the introduction of turbo engines and advent of improved fuel efficiency, had slowed down compared to last season.
"Formula 1 should be again what it always has been - the ultimate discipline," he added.
"It is not there to set new records in fuel consumption, or so you can talk at a whisper during a race and the greatest thrill is the squealing of the tyres.
"I consider it equally absurd that we are going a second slower than last year and that the junior series GP2 is almost as fast as Formula 1 with a fraction of the cost."