Martin Whitmarsh says Ferrari's tactic to deliberately trigger grid penalty was 'tough'
Team Principal suggests Ferrari set-up "works for Fernando"
Last Updated: 19/11/12 3:31pm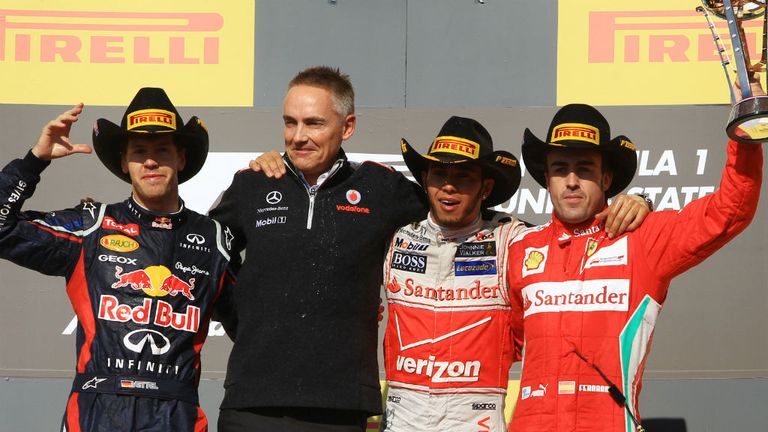 Ferrari sparked controversy in the hours before what had been Sunday's potentially title-deciding race by deliberately breaking the seal on Felipe Massa's gearbox to trigger an automatic five-place grid penalty for the Brazilian.
While this demoted him to 11th place it promoted team leader Fernando Alonso up one place to seventh and, crucially, over to the clean side of the grid.
Although an unusual tactic, there was nothing contained in F1's Sporting Regulations that barred Ferrari from making the move and the Italian team duly openly acknowledged that they had done it for "strategy considerations" to aid Alonso's title push.
The decision, while controversial, ultimately paid off for Ferrari as their Spanish driver picked up three places on the first lap and went on to finish third, ensuring the world title fight will go on to Brazil this weekend.
But while McLaren's Team Principal chose not to publicly condemn Ferrari for the move after the race, when asked if he thought that is how teams should be run, Whitmarsh was nonetheless quoted by the Daily Telegraph as replying: "I don't think so.
"I think it was quite a tough thing to do personally. I'm not criticising anyone for what they do. Team principals have to decide how they run their teams and it's very clear that Ferrari are very focused on Fernando. You all have to go racing the way you see fit.
"In fairness it works for Fernando because, lest we forget, when Fernando was with us it was not doing those things that meant that Fernando left us [at the end of 2007]."
Although McLaren were not directly affected by Ferrari's grid-altering tactics, Massa's demotion meant Force India's Nico Hulkenberg, Lotus's Romain Grosjean and Williams' Bruno Senna were all shuffled across to the dirty side of the Austin grid and none of the trio gained a position on the first lap.
"I think the toughest thing is that it put a number of people on to the slower side of the grid," Whitmarsh added. "Sadly, it didn't impact on us at all. We were on the slow side of the grid and we stayed there.
"But I think if I had qualified on the fast side of the grid and then been moved to the slow side I would have been very p***** off. But it didn't so I will just enjoy [Lewis Hamilton's] win today."