Kevin Magnussen says he is 'massively excited' about his forthcoming F1 debut
McLaren youngster confident team's expectations won't be misplaced
By Mike Wise
Last Updated: 10/03/14 12:30pm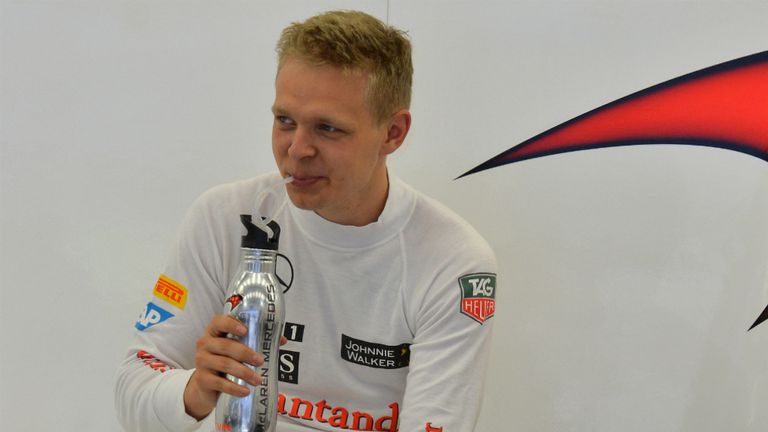 Having been fast-tracked to the big time at the end of last year when the Woking team opted to dispense with Sergio Perez's services after just one season, the 21-year-old Dane made an assured introduction during pre-season testing.
Magnussen twice topped the times on his way to completing almost 2,500km of mileage and although he did have a couple of spins in the first test at Jerez, such youthful indiscretions were kept to a minimum out on track.
They were also reflected in his cool and calm demeanour away from it. Yet with the clock fast ticking down to the Australian GP, it was perhaps inevitable that, when asked about his first race after the final test in Bahrain, boyish enthusiasm started to simmer.
"Obviously I've been thinking about racing in Formula 1 since I was a little kid, so that's nothing new," said Magnussen, whose father Jan raced F1 in the 1990s. "But it is a special feeling that the next time will be in Australia.
"I'm just massively excited about it. I'm not scared, I'm not nervous - actually I am nervous, everyone's nervous - but I'm not nervous in a negative way. I'm ready, I really want to go.
"I wish it was tomorrow."
Obvious comparisons are being made with the last rookie McLaren threw in at the deep end, Lewis Hamilton, who responded by finishing third on his debut at Albert Park in 2007.
Testing restrictions mean that Magnussen has enjoyed only a fraction of the mileage Hamilton racked up prior to his debut, with the newcomer also having to get to grips with the sport's major technical overhaul.
Magnussen said there was little point in targeting a podium at this stage. Yet with Mercedes ahead of the game with its new hybrid power unit, he clearly hopes McLaren will have enough performance to reach final qualifying.
"It's difficult to say really. In Formula 1, you can't really set a goal like, 'I want to be top three, I want to be top five' or whatever. You can't really set a goal like that because you never really know your pace until Q3 - hopefully Q3," he said.
"We'll see what happens. I'm going to push and do my very best. I'm aiming very high myself and have big expectations for myself. But we'll have to see."
Whereas Hamilton had 10 pre-season days in McLaren's 2007 car and at least as many again in its predecessor seven years ago, Magnussen has had just six days to get comfortable in the MP4-29.
He has also logged long hours in McLaren's simulator and says he feels ready.
"You will always feel like you can do more. If you had the time, you wouldn't stop - you'd learn all the time," Magnussen said. "I'm sure Michael Schumacher was learning until his last day in Formula 1.
"I've got all the basics covered now, I feel, to go and do a race. And I don't feel uncomfortable going into a race; I feel really comfortable that I know everything - all the procedures, what's important and how to cope during a race weekend. That's really positive because it is a big job, but I feel ready."
The energy recovery systems the new hybrid engines use mean that drivers must also cope with a much-reduced 100kg fuel limit in races this season.
It's seen as an added complication but Magnussen - who, it could be argued, is well placed as a rookie this season, since he hasn't been forced to change his approach the way far more experienced drivers are having to - relishes the challenge.
"There is a lot to think about in the race, or there will be, but I think it's exciting," he said. "I think it's really cool that there's so many things to do and the rhythms. It's not just driving the car, you really have to take care of a lot of things: fuel saving, tyre management, switches on the steering wheel.
"An endless amount of switches on the steering wheel. But I think it's exciting."
In judging just how much experience will matter in 2014, McLaren will probably be the team to watch as Magnussen partners Jenson Button, who is now the most experienced driver in the field.
Yet the youngster will clearly not be content playing second fiddle.
"I'll just do my best. It's no secret that team-mates want to beat each other but we're also working together and Jenson is a really good team-mate for me," Magnussen added.
"Because he's had so many years in Formula 1, there's so much to learn from him. When I'm sat next to him in briefings, I'm listening to his feedback because it's very useful.
"It's no secret that we want to beat each other, that's what team-mates are for."