'Lots of work needed' for Button
Jenson Button has conceded McLaren have a lot of work ahead of them overnight to improve the handling of his MP4-27 for Saturday.
Last Updated: 20/04/12 4:29pm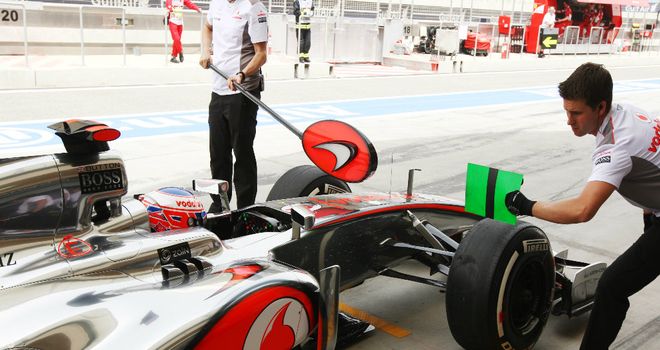 Jenson Button concedes McLaren have a lot of work ahead of them overnight to get his MP4-27 in more competitive shape for Saturday after a difficult opening day on track at Sakhir.
The Briton, on the podium for two of the first three grands prix of the season, failed to get within seven tenths of a second of the pacesetter in either Practices One or Two and was heard reporting over the radio in the latter session that his car's balance was "very strange", with both oversteer and understeer during the course of the lap.
Button admitted if his Friday was anything to go by then he wouldn't be one of the runners to watch out for over the weekend - although expressed optimism that the team would be able to establish a better set-up on his MP4-27.
"At the moment I'm definitely not a guy to watch out for," he told Sky Sports News.
"We'll hopefully find out a bit more tomorrow. But there's a lot of work needed in our garage to improve the car that we have. Not happy today.
"We've tried many different things, but still we're not there yet. So we will work late tonight and hopefully find something that's going to move us forward tomorrow."
In McLaren's post-session press release, he also added: "The car's been acting very differently from how it's been in the first three races. Perhaps we've gone too far with the balance and need to take a step back - there'll be a bit of work needed tonight to get us into a better position. But I'm hopeful of resolving the issues before tomorrow."
Nico Rosberg's storming pace in second practice again makes Mercedes a big threat for qualifying in particular this weekend, but Button was also impressed by the sudden improved pace of the Red Bulls after their drivers ran consistently strongly throughout Friday.
"I think the Red Bulls and the Mercedes' look very competitive," he noted. "Red Bull, surprisingly, are very quick."