Fernando Alonso thinks Mercedes will repeat tactic they used in Monaco last year
Ferrari ace convinced Silver Arrows "will not push too much" after qualifying fifth
By Mike Wise in Monaco
Last Updated: 25/05/14 7:58am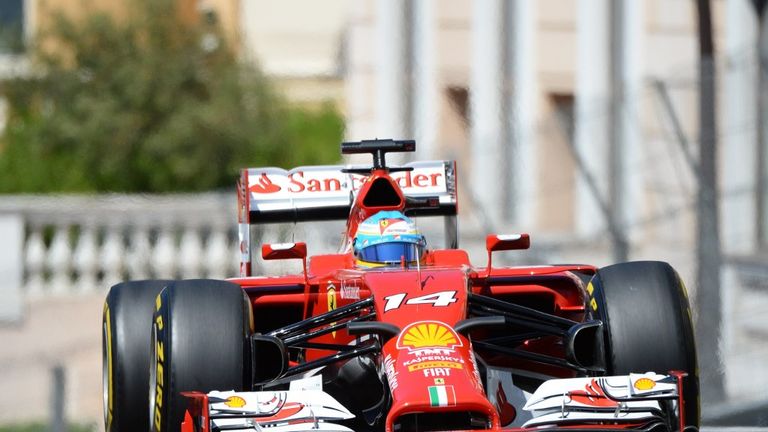 Twelve months ago Nico Rosberg won after running at a reduced pace in the knowledge that overtaking opportunities are strictly limited around the famous 3.340km street track.
Mercedes used the strategy because they were struggling with tyre wear at the time. Yet even though that's no longer the case, Alonso thinks the Silver Arrows' closest rivals will be able to keep right with them for the first time this season.
With Rosberg starting on pole ahead of team-mate Lewis Hamilton, Alonso, who qualified fifth in his Ferrari, said: "I think it's going to be closer due to the pace that will happen in the race. I remember last year the pace of the Mercedes, they were holding everyone, creating a big train of cars and I think that tomorrow, with the advantage they have, I'm sure that they will not push too much.
"While they can be at 50 per cent for all the laps, we will be 110 per cent all the laps and that will make the train a little bit closer."
According to Alonso, Ferrari should be prepared for all eventualities - including rain, which he said made conditions "really, really slippery" during practice on Thursday afternoon.
"The laps around the pit stops, it's difficult to overtake, so we just need to be very focused," he continued. "We have some forecasts of rain tomorrow; if that happened then the race will probably change a lot and anything can happen in a couple of laps."
The double World Champion said he extracted the "maximum" out of his F14 T during Q3 - team-mate Kimi Raikkonen lines up directly behind him, albeit about 0.7s slower - and said it was his best qualifying performance of the season so far.
"The fact we were one tenth or two tenths from [Sebastian] Vettel was a very, very good surprise," Alonso said, although he pointed out that, unlike the World Champion, he was able to finish his final flying lap before Rosberg's controversial trip up the escape road at Mirabeau brought out the yellow flags.
"The position is fifth, which is more or less the position that I had all weekend, but from where I qualified I can have a reasonable race."
Even so, Alonso thinks Pirelli's tyres are "too hard" this season and admitted he found it "impossible" to get the soft prime rubber up to temperature during third practice earlier on Saturday.
The 32-year-old also said his performance had improved thanks to major set-up changes. "The car felt better and better during the weekend," Alonso added. "We made some important changes to be honest.
"Normally in the weekend we don't change the set-up so much but here we've suffered a little bit with understeer and braking problems. We work a lot on that and it got better and better."