Daniel Ricciardo was surprised to qualify as high as sixth for the German Grand Prix
Red Bull hopeful admits decisions made elsewhere probably helped
By Mike Wise at the Nurburgring
Last Updated: 06/07/13 10:00pm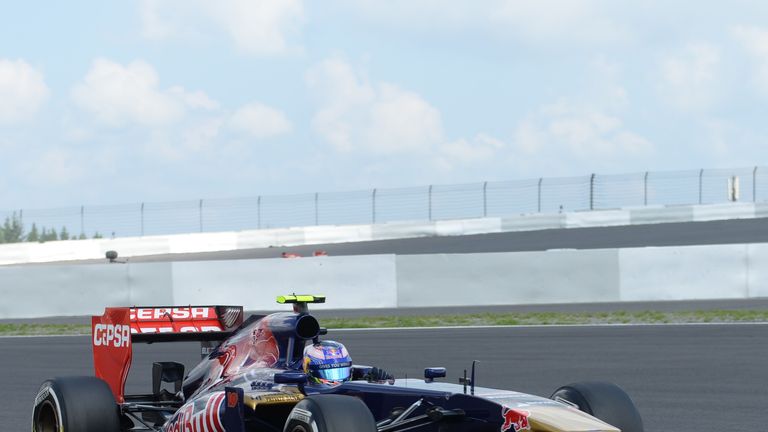 The Italian team had plenty of speed at Silverstone throughout last weekend, with Ricciardo qualifying a best-ever fifth on the grid for the British GP before finishing ninth in the race itself.
Friday practice at the Nurburgring proved a little more challenging for them and yet Ricciardo was still able to dig deep when it mattered.
In truth, that moment came at the end of Q2. His grid placing flatters to deceive, in that the drivers lining up immediately behind him - Ferrari pair Felipe Massa and Fernando Alonso, plus McLaren's Jenson Button and Sauber's Nico Hulkenberg - have chosen instead to play the long game.
Thinking ahead to the race, Massa and Alonso set times on the slower medium while Button and Hulkenberg opted not to set times at all.
Certainly, both Ferrari drivers would have outqualified him if their pace in the first two sessions was anything to go by, with the half-second gap between Ricciardo and Romain Grosjean, who lines up directly ahead of him, telling its own story.
"I think surprised at sixth but obviously a few guys opted for the prime, so whether we'd have stayed there, who knows?" the Australian said.
"I knew Q3 wasn't impossible. I knew it was probably going to be a little bit harder than it was last week; that was realistic. But I knew that if we got our stuff together, we'd have a good crack.
"It worked well. After P3 we made some needed changes; they helped us out a bit and pushed us forward. Then I put a lap together in Q2 that did us a favour."
Describing the lap, the 24-year-old added: "The last sector was really strong. I went purple and that's always nice to see - purple makes drivers happy, it's the colour we all enjoy to see."
Whether Ricciardo can score points for the second successive race remains to be seen but he does, of course, have more motivation than most.
So, is the hunger for Mark Webber's seat helping? "I put it at the back of my mind. Since the news I've had two good qualifyings; I'm not going to say that's the reason for it because I've been pushing all the time.
"I've put it at the back of my mind but it's positive to know that there's talk and it's good news not bad news.
"Silverstone was great - to prove it in practice but keep it in qualy. When we were expected to do it, we did it.
"Today, we weren't expected to do it but we pulled a few things around and really dug deep. It's two different scenarios but it's nice to pull off both of them and prove we can do it - both when it's expected and when it's not."
Instead, Ricciardo said the chance to step back after the Canadian GP allowed him to ponder how he might respond to the strong performances of team-mate - and rival to replace Webber - Jean-Eric Vergne in both Monaco and Montreal.
"Before all the Red Bull talk, I'd come off two poor races. We had a break then - three weeks off after Montreal - and that was a good time to reassess a few things, try and bring the boys together and try and understand how we can move forward," he added.
"That, and the fact that JEV had two really strong races, gave me a lot of fire. I like to think I always work hard away from the cockpit but let's say I worked even a little bit harder to understand.
"That was the real motivation - to really try and make that step up. The Red Bull thing was just a bit of icing to that mix."
Remember you can watch the German GP live from the Nurburgring with a Sky Sports Day Pass from NOW TV. For more information, visit http://bit.ly/19YBfbx